Labour leadership contest 'neck and neck'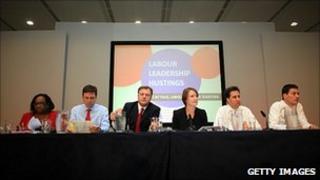 Counting is under way in the Labour leadership ballot, with the result due to be announced on Saturday afternoon.
Most observers believe it is too close to call between David and Ed Miliband, with second and third preference votes likely to prove decisive.
Ed Balls, Andy Burnham and Diane Abbott are thought to be batting it out for third place.
MPs and MEPs, party members and members of trade unions and allied organisations took part in the vote.
Each of the three components counts for a third of the overall result, but with those taking part casting second, third and fourth preference ballots, it is difficult to predict the outcome.
London mayor
Ed Miliband was installed as favourite by some bookmakers for the first time earlier.
Political betting expert Mike Smithson writes on his blog that he has switched his prediction from David to Ed Miliband, adding: "Overall David Miliband appears to have been squeezed in his main area of strength, MPs/MEPs, and lost quite a lot of support amongst members and in the Trade Union section from those who rated Ed Miliband's political views over his."
According to The Guardian newspaper, discussions have taken place between the two rival Miliband campaigns about what role each of them might play in the other's shadow cabinet when one of them loses.
It comes as Ken Livingstone defeated former MP Oona King for Labour's nomination for the 2012 London mayoral election. Mr Livingstone, who served two terms as London mayor between 2000 and 2008, polled 68.8% of the total votes.
Meanwhile, Andy Burnham has called for a change in the rules for future leadership contests, with tighter spending limits and a switch to one member one vote instead of separate sections for MPs, trade unionists and party members.
"I don't see why my vote as an MP is worth 600 times the vote of an ordinary party member. That's not how we build a mass membership party," he told The Guardian.
Deputy leader
About three million people are expected to have voted in the leadership contest, with their ballot papers being verified and counted by the independent Electoral Reform Services.
Once the winner is announced, at about 4pm on Saturday, acting leader Harriet Harman will return to her previous job as Labour's deputy leader.
But the new leader will not be able to handpick all his or her top team - the day after the winner is announced nominations open for the shadow cabinet, with Labour MPs voting to decide who should have a place.
Shadow cabinet candidates have until next Wednesday to put their names into the ring, with about 50 already in the running for the 19 slots up for grabs. The other members of the shadow cabinet - party leader, deputy leader, chairman of the Parliamentary Labour and the chief whip - are voted in separately.
The vote, which takes place until 7 October, is further complicated and made difficult to predict by the fact at least six of the 19 places have to be women. The 19 successful candidates will then be allocated posts in the shadow cabinet by the new party leader.
The last shadow cabinet elections took place in 1996. Margaret Beckett topped the poll, followed by Ann Taylor with future senior cabinet figures Gordon Brown in 14th place and David Blunkett in 17th position.