What can we expect from next Labour leader?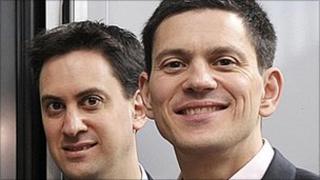 Labour leadership hopeful David Miliband, who will learn his fate on Saturday afternoon along with brother Ed and the other three contenders, has described himself is the "Milibandite candidate".
It is not a phrase that anyone else uses - to many observers he has been the Blairite in this contest.
Even Tony Blair accepts it is "fairly obvious" who he wants to become the next Labour leader, although the former prime minister will not name names.
The man who was an adviser in Downing Street under Mr Blair, has spelt out some of the policies he would put in place if he returned to Number 10 as PM.
David Miliband wants to see a "mansion tax" on high value properties, welfare reform and a British investment bank built on the proceeds of selling off the nationalised banks.
But whoever is crowned leader on Saturday afternoon, when the result will be announced at Labour's annual conference in Manchester, will talk about wanting to move on from the old Blairite versus Brownite battles.
If David Miliband is triumphant that message will ring out particularly loud, as he tries to drive home the message he is his own man, and not a New Labour "heir to Blair".
'New Labour orthodoxy'
His brother, Ed, widely reckoned to be his nearest rival for the crown, is clear that if he becomes leader "New Labour" will be no more.
During the campaign he blamed "New Labour" for creating a stifling culture, insisting that the party needs to move on from a "new Labour comfort zone" and said it is time to "turn the page on New Labour orthodoxy".
If Ed wins many commentators will be waiting to learn whether older brother David would accept a place on his team. Sources within David Miliband's team have told The Guardian that he would, but added: "The issue is whether in six months or a year he decides to consider a life outside Westminster."
There is little prospect of a role for Lord Mandelson, who has been a very public critic of Ed Miliband.
With the three biggest unions supporting him, Ed is expected to steer a party shorn of some of its Blair-era terminology and policies to the left.
Expect to see him campaigning for a higher minimum wage and a permanent tax on bankers' bonuses.
Ed Balls says the contest between the Milibands is a "daily soap opera". If he wins, it will provide a twist in the tale to confound the pundits.
His robust style of opposition has been honed attacking the plans of education secretary Michael Gove.
'Soap opera'
If he becomes leader, Mr Balls will focus on the economy, arguing that cuts could be made much more slowly than those planned by the coalition, and that VAT should not go up as planned next year.
A Balls leadership would not be without its own soap opera elements. What job could his wife Yvette Cooper expect were she to be elected to return to the shadow cabinet? And would he become a leader in the image of his mentor Gordon Brown?
Andy Burnham says ever since he studied at Cambridge he has feared a tap on the shoulder from someone suggesting he has achieved too much.
Should he carry that anxiety to the office of leader of the opposition he will surprise many observers.
Frustrated during the campaigner at being seen as an outside chance, he has tried to emerge as a candidate set apart from the battles between old and new Labour.
As a leader he would campaign for the 'national care service' he tried to put in place while Health Secretary, funded by a 10% tax paid on all estates after death.
Under his plans the Department of Health's budget would not be ring-fenced, as he argues that protection is not fair.
'Radical cuts'
Diane Abbott is unencumbered by a history in office.
As a critical backbencher rather than a former minister she has no need to justify the decisions taken by the Labour government, and is not shy about reminding people of the fact.
In her pitch to voters, she says Labour's values were corrupted and ministers - "many of whom are in this election" - failed to see that coming.
An Abbott victory would stun Westminster. She says it would bring Labour closer to voters. The party would certainly move far further to the left that it would under any of the other candidates.
Labour leader Abbott would scrap Trident, make "radical" cuts in defence, and argue it is wrong taxpayers should fund the cost of saving banks with cuts in public services.