Lib Dem conference: Did Nick Clegg win over doubters?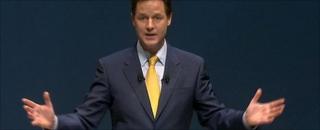 It was the big bust up that never happened.
Nick Clegg had warned in advance that he was "nervous" about the reception he might receive and feared a "rough ride" at the hands of Lib Dem activists angry at the price of coalition politics.
There were suggestions of grief for the leadership over looming spending cuts, plummeting poll ratings and the long list of inevitable compromises involved in working with the Conservatives.
In the event, despite one hiccup over free schools, the party leadership emerged un-scathed and un-troubled. There were no gaffes; no splits; no major rows. Job done.
But then - despite the pre-conference build up of rows , revolts and rebellions - this was never really going to be showdown time.
After all the Liberal Democrats haven't had a sniff of power for more than 65 years - it surely would have been a little bit odd if party members decided to throw a wobbly after just four months.
In fact - far from being a simmering mass of discontent - you sense Liberal Democrats are rather enjoying their new sense of importance and political clout.
And yet the leadership would be wise not to neglect their party members or to assume they do not have serious concerns.
Difficult times ahead
For away from the conference platform there are real doubts about the scale of the spending slowdown and benefit cuts.
There is also a genuine nervousness about Tory plans for welfare reform and GP commissioning in the health service.
Many Lib Dem MPs are also deeply queasy about university funding, with some openly threatening to vote against any move to increase the amount students have to pay and a possible graduate tax.
Party members are also distinctly underwhelmed about a referendum on AV (the alternative vote) - and still hanker after a fully proportional system.
There is a rippling unease that Nick Clegg may be just a little too right-wing and some furrowed brows at his assertion that "there's no future for the Liberal Democrats as a party of the left".
All of which suggests - that while Nick Clegg and his aides can afford to kick off their shoes and relax a bit after this conference - it is unlikely to last.
Indeed Mr Clegg may well look back on this conference with some fondness. Future Lib Dem conferences are likely to prove a lot more difficult.