Chris Huhne promises to create 250,000 'green' jobs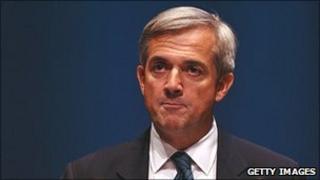 Energy Secretary Chris Huhne has promised to create 250,000 jobs in green industries.
In his speech to the Liberal Democrat conference, he said a new "deal" would lead to workers being employed to insulate 26 million homes.
This would counter the economic "drag anchor" of budget cuts planned by the coalition government, he added.
But Labour said Mr Huhne had "let down" consumers by "turning his back" on proper support for green industry.
In his speech, the energy secretary told delegates a "green deal" would lead to workers modernising some 26 million homes to make them more energy-efficient as part of the coalition's ambition to be the "greenest government ever".
'Security'
He argued: "We use more energy to heat our homes than Sweden, where it's seven degrees colder in January. We might as well be standing outside burning £50 notes.
"By stopping this waste, we can make big savings on bills, and use them to pay businesses for the cost of insulation. This is the green deal."
Under the policy, companies would pay upfront to insulate homes, with householders paying back from the energy savings that result.
The Lib Dems were previously opposed to the use of nuclear power.
But, discussing the coalition agreement with the Conservatives, Mr Huhne said: "I expect [Chancellor] George Osborne to take more millions of the low-paid out of income tax even though he is a Conservative minister implementing a Liberal Democrat pledge.
"And George Osborne expects me to deliver our agreement on nuclear power, which is that there is an important place for new nuclear stations in our energy mix as long as there is no public subsidy. A deal is a deal, and I will deliver.
"I'm fed up with the stand-off between renewable and nuclear which means we have neither - we will have both. We will have low-carbon energy, and security of supply."
His speech followed a vote at the Lib Dem conference in Liverpool, backed by Mr Huhne, that 10% of government revenue should come from green taxes by 2015.
'Shift'
Estimates vary, but the Institute for Fiscal Studies calculated in April that revenues from environmental taxes had decreased from 9.5% in 1997 to 7.9% in 2009.
The vote prompted much speculation in the newspapers about the potential cost to motorists and holidaymakers. The Daily Telegraph said drivers could be paying an extra 30p a litre if the government decided to raise the extra money through fuel duty alone.
Mr Huhne told the BBC he wanted to encourage driving - but in electric vehicles - and the government had announced a financial subsidy for those buying electric cars.
"We intend to try to shift over to electric vehicles powered by low carbon electricity as soon as we can. That's the way to get a very good deal for motorists."
Asked about a possible 30p-a-litre rise, he said there were "no specifics about particular taxes and we are not saying, for example, that it would be on petrol taxes".
For Labour, shadow energy secretary Ed Miliband said: "Chris Huhne has let down those who believed the coalition's pledge to be the greenest government ever.
"Going green involves tough choices and he has ducked them all, including pandering to his party on nuclear power when the industry needs certainty to invest. You can't be the greenest government ever by turning your back on Britain's green industry."