Polls close in Labour leadership contest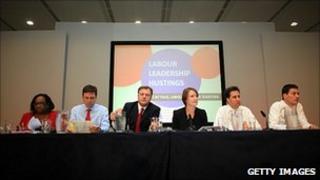 Voting has ended in the Labour leadership contest, with the result to be announced on Saturday at the party's annual conference.
MPs, MEPs and party members had until 1500 BST to vote after the ballot of members of trade unions and affiliated groups ended on Monday.
Ex-ministers David and Ed Miliband, Ed Balls and Andy Burnham and backbencher Diane Abbott are vying to be leader.
Polls suggest it could be too close to call between David and Ed Miliband.
But Labour's complex voting system and the redistribution of second-preference votes makes accurate prediction of the result very difficult.
About three million people are expected to have voted in the contest.
The ballot papers will be verified and counted by the independent Electoral Reform Services, with the count due to get under way on Friday.
Labour MPs, MEPs, party members and members of affiliated organisations, were all entitled to vote in the election but the vote is broken down into three "electoral colleges".
London mayor
The MPs and MEPs' votes count for a third of the final result, members count for a third and the affiliated societies make up the final third.
Once the winner is announced, at about 4pm on Saturday, acting leader Harriet Harman will return to her previous job as Labour's deputy leader.
But the new leader will not be able to handpick all his or her top team - the day after the winner is announced nominations open for the shadow cabinet, with Labour MPs voting to decide who should have a place.
Shadow cabinet candidates have until next Wednesday to put their names into the ring, with about 50 already in the running for the 19 slots up for grabs. The other members of the shadow cabinet - party leader, deputy leader, chairman of the Parliamentary Labour and the chief whip - are voted in separately.
The vote, which takes place until 7 October, is further complicated and made difficult to predict by the fact at least six of the 19 places have to be women. The 19 successful candidates will then be allocated posts in the shadow cabinet by the new party leader.
The last shadow cabinet elections took place in 1996. Margaret Beckett topped the poll, followed by Ann Taylor with future senior cabinet figures Gordon Brown in 14th and David Blunkett in 17th.
Voting also closed on Wednesday in the race for Labour's nomination for the 2012 London mayoral elections, with ex-mayor Ken Livingstone and former MP Oona King battling it out for the candidacy.
The party's choice will be announced on Friday.