Lib Dems suffer conference defeat over free schools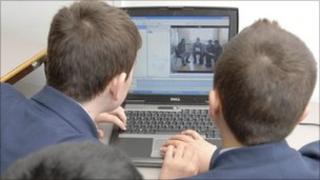 The Lib Dem leadership has been defeated in a conference vote over whether to support new free schools.
Activists angry with the coalition proposal called for the party to urge people to turn their back on the schools - due to open next year.
Ministers called this an "illiberal boycott" and said they should work instead in government to improve them.
The defeat will not change government policy as legislation to introduce the schools was passed in July.
The party leadership was overwhelmingly defeated in a series of votes on the development of free schools and the expansion of academies in England.
Although the votes are not binding on the party, they were embarrassing for leader Nick Clegg just hours before he delivered his main conference address in Liverpool.
In it, he acknowledged the issue provoked "strong passions" but said the party was united in its belief in the importance of fairness in education.
'No demand'
Up to 16 free schools, to be funded by central government and not subject to local authority consultation, are set to open by September 2011.
Parliament backed the Conservative-led plan in July, with supporters saying they will allow parents, teachers and other groups to set up new schools where there is demand.
But several Lib Dem MPs rebelled during the passage of the bills and several others have expressed misgivings about their likely impact on existing schools in those areas.
A motion calling on the party to urge people "not to take up the option" of the new schools was overwhelmingly carried.
During a lively debate on the issue, party activists were told the new schools would be "divisive, costly and unfair".
Lib Dem councillor Peter Downes said the proposals were "incompatible" with long-held party principles and amounted to a massive centralisation of education provision.
Free schools posed a "potentially very significant threat to the stability, fairness and viability of our schools system", he said, as there was "no widespread demand for schools to be revolutionised".
Former MP Evan Harris - who lost his seat at the election - said it was not illiberal for Lib Dems to be allowed to campaign on issues they felt strongly about.
"We must be free to fight the Tories at a local level up and down the country," he said.
The rebel motion approved by delegates said the policy would make an "already unfair" schools system more unequal, worsen educational outcomes for the majority of children, further complicate admissions procedures, jeopardise existing school building programmes and endanger provision for pupils with special needs.
It also called for tighter guidelines on the expansion of academies, a Labour policy which the coalition has pledged to accelerate - with 140 schools on course to get academy status this year.
It said local authorities should retain "strategic oversight" of the publicly funded provision of school places and maintain support for all state-funded schools and for ministers to ensure existing state schools were not financially disadvantaged as a result.
Schools minister Sarah Teather said Lib Dems had improved the schools legislation to make it more transparent, to protect vulnerable children and to retain local authority oversight over admissions.
She said the changes were "part of a package" that would see increased support for pupils from deprived backgrounds and reform of early years education and said it was right councils should be able to work with new providers to improve opportunities for children.
'No selection'
But an amendment which urged MPs to channel concerns through Parliament rather than endorsing local opposition was defeated.
Ms Teather told BBC Radio 4's World at One she would take account of what members were saying but that "government policy is formed by government ministers".
Referring to the defeat in his conference speech, Mr Clegg insisted that free schools would not be able to select pupils on the basis of academic ability.
Mr Clegg said his goal was for every school to enjoy the same level of freedom but this would not extend to new schools being able to select on aptitude.
"The whole concept of our reforms falls apart if you use it to expand selection - because instead of children and parents choosing schools, you get schools choosing children," he told party supporters.
"So we have made it absolutely clear: we will allow people to set up new schools but we will not allow them to pick and choose the brightest. No to more selection."
On academies, he said the coalition's plans were fairer than Labour's in that all schools would be able to apply rather than a few being singled out.
Labour said the vote was a slap in the face for the coalition's "unpopular, flawed and deeply unfair school reforms".
"Lib Dem members have said loud and clear that they won't be fooled by hollow rhetoric from either Nick Clegg or Michael Gove," said shadow education secretary Ed Balls.
"While Lib Dem ministers claim to have secured a pupil premium to compensate for the worst effects of the coalition's school reforms, they have absolutely nothing to show for it."
Unions welcomed the outcome, saying it recognised the "implacable opposition" to free schools among parents and teachers.