Mandelson criticises Ed Miliband over Labour manifesto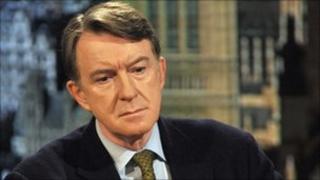 Former business secretary Lord Mandelson has criticised Ed Miliband over Labour's election manifesto.
Lord Mandelson told a BBC Radio 4 documentary that the manifesto failed to address those who were not "natural, or automatic" Labour voters.
Mr Miliband, a candidate for the Labour leadership, wrote the manifesto but Lord Mandelson accused him of now distancing himself from the document.
The result of the Labour leadership contest will be announced on Saturday.
Treasury 'conspiracy'
Speaking about the manifesto, Lord Mandelson said: "I'm absolutely mystified... because its author, Ed Miliband, it seems to me has distanced himself from it, and created the impression that it's not the manifesto on which he would have fought the election.
"Well, nobody else was authoring this manifesto. I wasn't. Nobody else in the cabinet was."
But, according to BBC political correspondent Iain Watson, Labour sources say Lord Mandelson was fully consulted on the contents of the manifesto and both he and then-Chancellor Alistair Darling had successfully argued for changes to it.
Lord Mandelson also told the BBC, in the radio documentary called The Brown Years, that then- Prime Minister Gordon Brown "came to a very clear view that the Treasury somehow were not on his side".
He added that Mr Brown also thought "that the Treasury was not being controlled adequately by the chancellor, by Alistair Darling.
"He developed a sense that the Treasury were... a conspiracy, that they were constantly plotting to undermine the economic stimulus."
Chancellor replacement
Lord Mandelson goes on to say that Ed Balls, also a candidate for the Labour leadership, had encouraged Mr Brown to think that Mr Darling was not an effective chancellor.
"[Gordon Brown] would... soon revert to the theme about this dastardly Treasury orthodoxy.
"And it was terribly corrosive because he concluded, and in this, I'm afraid Ed Balls encouraged him very greatly, to the belief that Alistair wasn't on top of the job, he wasn't coping, he wasn't instructing his officials, he wasn't countering this orthodoxy.
"And that led, of course, to his conclusion, but not in the event, the action, that Alistair Darling needed to be replaced and that the only person, you know, who could turn the Treasury round and point it in the right direction was of course, Ed Balls."
Lord Mandelson describes Mr Balls as having "a very commanding presence in the Treasury during the time that Gordon had been chancellor" with "a range of influence, almost control over policy in the Treasury, acting on Gordon's behalf".
Responding to Lord Mandelson's claims, Mr Balls' leadership team said: "Ed has always stated that he was never pushing to be chancellor and was content to remain as children's secretary, which he saw as an important job."
You can hear Lord Mandelson's interview in the BBC Radio 4 documentary The Brown Years on Tuesday 21 September at 0900 BST.