Lib Dems gripped by fear, says leader Nick Clegg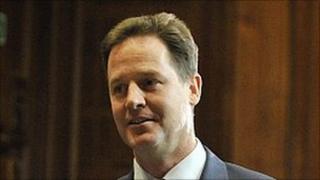 Liberal Democrat activists are "gripped by fear of the unknown" about the coalition government as they gather in Liverpool for their annual conference, leader Nick Clegg has said.
The deputy PM said he expected a rough ride from delegates over the government's planned spending cuts.
But he urged them not to give in to "anxiety" and see the "wider picture".
He said he feared the cuts issue was in danger of masking all the coalition's early achievements.
The Lib Dem leader said five months into their power sharing deal with the Conservatives - and weeks away from a massive public spending review - party members had clearly reached the "most anxious psychological point".
"This plainly ain't easy. We are at the point where all the achievements of this government and the measures it is taking are obliterated by the fear of cuts.
"David Cameron and I have talked to each other about it. We accept with a bit of a shrug of the shoulders we are in that phase where everybody is worried and the wider picture about what the government is doing is not being seen."
Trident debate
But he went on: "As people start seeing it is a plan that makes sense and will work, we will restore economic growth and confidence will grow."
Mr Clegg risked the wrath of his party's grassroots on Thursday with a strongly-worded article in The Times in which he defended cuts to the welfare budget and stressed the need for wholesale reform of the system.
But he has also been at pains to stake out a distinctive position on the renewal of Britain's Trident nuclear weapons - always an emotive issue at Lib Dem gatherings.
In contrast to Mr Cameron, who is committed to maintaining a constantly deployable system, he has suggested a cheaper alternative might be the way forward.
In his Standard interview, he hit out at "the idea that you need to replace Trident like-for-like so that you can flatten Moscow or Vladivostok at the touch of a button, for which it was designed at the height of the Cold War, at any minute, any day".
An emergency debate is expected to be held at the Lib Dem conference demanding that Trident be axed entirely.
'Gaining members'
Mr Clegg will seek to get off on the right foot with delegates on Saturday evening with a rally to launch the Yes to AV campaign, ahead of next May's expected referendum.
And there are no debates scheduled explicitly about the issue of spending cuts - but the party leadership could face flak during a debate over the Conservative-conceived policy of "free" schools.
Lib Dem minister Norman Baker blamed the media for stirring up divisions in the coalition, saying many newspapers had already written headlines about splits at the party conference, when most members recognised the need for cuts.
"The Lib Dem membership by and large... recognises is the economic situation we are in, the need to take corrective action," he told BBC Two's Daily Politics.
He added: "What I have seen is, for the first time in decades, we have actually implemented a whole range of Lib Dem policies in government and many Lib Dems up and down the country are saying 'hooray'."
Mr Baker hit back at reports of a collapse in support for the party, triggered by poll ratings as low as 12%, saying it was gaining members and winning council seats and media stories about splits were "completely out of line with reality".
Although some councillors have defected to Labour, he said the party had had a "net gain" of councillors since the coalition came to power and thousands of people had joined the party.
However it emerged on Friday that another Lib Dem councillor had defected to Labour in Sheffield, blaming the "savage cuts" of the coalition.
And Lib Dem MP Tim Farron, who is standing for party president, warned the party's "distinctive message has often got buried, what we stand for has got blurred and our ability to campaign is blunted" - although he also said the Lib Dems had got "a huge amount out of being in government".