Prescott to launch legal challenge to phone hack probe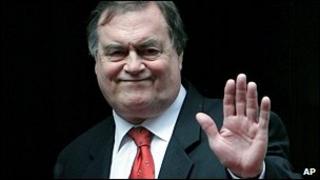 Former deputy PM Lord Prescott is to ask for a judicial review of the police investigation into phone hacking claims involving the News of the World.
He says the Metropolitan Police did not provide him with material related to him uncovered during its 2006 inquiry.
The peer says papers with his name on were found in the office of a private detective at the centre of the inquiry.
Reporter Clive Goodman and private detective Glenn Mulcaire were convicted of conspiracy to access phone messages.
Met Police Assistant Commissioner John Yates told MPs this month that Lord Prescott was not one of those people whose voicemail Pin numbers were discovered during the initial investigation.
'Effective investigation'
Lord Prescott's office said the application for a judicial review centred on the police's failure to hand over a document with his name on when requested - not about whether his own phone had been hacked.
The other reason for Lord Prescott's planned legal challenge is what he calls the failure of the Metropolitan Police to "carry out an effective investigation into the unlawful activities of Goodman, Mulcaire and others".
He will also be asking for damages - which he says will be given to charity if he wins.
Earlier this week former Met assistant commissioner Brian Paddick also launched a bid for a judicial review of the force's handling of the case, saying it failed to warn him his privacy may have been compromised. Labour former minister Chris Bryant and the journalist Brendan Montague also want the courts to decide whether the police handled the case properly.
Lord Prescott said on his website: "It has always been my intention to discover the truth behind this case and whether the Metropolitan Police fulfilled its duty to follow all the lines of evidence.
"It is my belief they didn't and I hope the judicial review will finally reveal why justice not only wasn't done but wasn't seen to be done."
He said he had repeatedly asked police, from July 2009, to give him all the information relating to him that was found during the police search of Mr Mulcaire's office.
Claims resurface
Five months later he said he was informed the police had found "a piece of paper that said the words 'John Prescott' and 'Hull'," alongside "two self-billing tax invoices for £250 each from News International Supply Company Ltd" which were marked "Story: Other Prescott Assist- TXT".
The phone hacking inquiry dates back to 2006, when the News of the World's royal editor Clive Goodman was arrested over claims that staff working for Prince Charles had their phones intercepted.
In January 2007 Mr Goodman and the private investigator Glenn Mulcaire were jailed after admitting conspiracy to access phone messages - it emerged that a series of public figures including the super model Elle Macpherson and the Professional Footballers' Association's Gordon Taylor were among those whose phones were targeted.
The News of the World's editor, Andy Coulson, later resigned saying he took responsibility - although he said he had not been aware of the phone hacking.
The Metropolitan Police have been criticised for their handling of the case after they decided last year there was insufficient evidence to pursue allegations that Mr Mulcaire had targeted a host of public figures, including leading politicians.
Allegations resurfaced when former News of the World journalist Sean Hoare claimed that Mr Coulson - now Prime Minister David Cameron's director of communications - had known about it at the time. Mr Coulson denies this but says he is happy to talk to the police.
Police are re-examining the case following Mr Hoare's allegations. Two separate Parliamentary inquiries have also been launched into phone hacking.
Scotland Yard declined to comment on Lord Prescott's application for a judicial review.