Radio 4 Profile: Treasury Chief Secretary Danny Alexander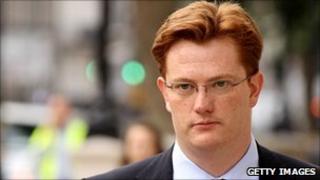 As Chief Secretary to the Treasury, Danny Alexander is sometimes said to hold the third most powerful job in politics.
This puts him above his boss, Liberal Democrat leader and Deputy Prime Minister, Nick Clegg.
How did this 38-year-old rise to the top so quickly?
Talk of a resemblance to Harry Potter, albeit a ginger-haired, Scottish version, is laughed off by the man himself. But there has been something almost wizardly about rising from head of communications for the Cairngorms National Park to his current office in six years.
His upbringing is very different from that of the men with the two jobs above him, the Prime Minister, David Cameron, and the Chancellor of the Exchequer, George Osborne.
Remote island
Danny Alexander's family has a long tradition of liberal politics, and, in the mid 1970s, they opted for a more alternative lifestyle. When Danny was just two, his parents moved him, his brother and sister from Edinburgh to the remote Hebridean island of Colonsay, where there are more seals and rare birds than people.
So began a childhood featuring many a ceilidh. Danny was both an enthusiastic Scottish dancer, and a big heavy metal fan.
His father Dai Alexander remembers Danny's talent for cataloguing the minutiae of life:
"Danny could recognise every vehicle on Colonsay by its sound alone. When it went past the house, he'd be able to tell you who it was."
"He also knew all his dinosaurs and loved them dearly," Mr Alexander fondly recalls, "and was into his birds and dolphins".
This attention to detail might stand him in good stead in his current job.
In 1980 the family returned to the mainland and Danny went to Lochaber High School, a comprehensive in Fort William. Then followed Oxford, where he gained a first class degree in Politics, Philosophy and Economics.
Cairngorms
After that, he spent eight years, from the mid 1990s, working for various European pressure groups.
But in 2004, he went for a complete change of scenery, politically and geographically, as head of communications for the Cairngorms National Park in Scotland.
His boss there, Jane Hope, was struck by "his real capacity to build working relationships with others. He was very prepared to listen to people," she says, "and to recognise their point of view, even if he disagreed with it.
"He always made sure that he knew and understood where people were coming from," she added.
But why would a man with political ambitions chose to become communications director for a national park? Going to the Cairngorms seems a mystifying career move after working for pro-Europe lobby group "Britain in Europe".
'Very wily'
His friend from university, Mark Littlewood, argues this was actually a shrewd bit of strategy:
"He took a wise move to change jobs into something that put him into proximity with the constituency in the area that he was interested in fighting, and he built up his local profile and credibility from there.
"I have no doubt it was part of a well-thought out game plan for how to become the Liberal Democrat MP for Inverness," he adds.
While they were at university, Mark Littlewood and Danny Alexander shared an admiration for the US president Lyndon B Johnson, a canny schemer. Mr Littlewood thinks that Mr Alexander, too, is "very wily. He has the political skills needed to survive and thrive in a complex elected political environment".
Those wiles were very much in evidence in 2006 when, less than a year after becoming an MP, he masterminded Nick Clegg's campaign to become Lib Dem leader.
His public profile stayed low until May 2010, when he was one of the lead negotiators in the government coalition talks.
'Problem solver'
Subsequent headlines questioned his capital gains tax arrangements. He played by the rules, but avoided paying it on the sale of his London home, by claiming it was his primary residence, even though he was MP for Inverness.
It was a rare blip.
His reward for helping to seal the government coalition deal was the job of Secretary of State for Scotland.
But he had barely found his way to the office, when, just days after the birth of his second child, a daughter, he was catapulted into one of the biggest jobs in politics: following David Laws' sudden resignation over expenses, Danny Alexander became Chief Secretary to the Treasury.
It may not have been a job he had wanted, and who would want to have this job at a time of "the worst austerity package in living memory", as his friend Mark Littlewood points out, but, he adds, "he's a problem solver", and ready to grab opportunities. "So when that vacancy arose, he seized that."
But what impact will choreographing the Comprehensive Spending Review have on his career? The axe that he is about to swing will cut deep in places like his own constituency, and those who voted for him may not forgive.
Kevin Maguire, associate editor of The Daily Mirror, thinks that "there is a great danger that the Liberal Democrat winnow will be swallowed by the Conservative whale, that this will be his first big job, and his last big job".
But will it?
His friend Mark Littlewood, now Director General of the Institute of Economic Affairs, says Danny Alexander may arguably be number three in the country right now, but who is to say that he won't go even higher?
"I'm quite sure that Danny will give it his very best shot to rise as far up Disraeli's greasy pole as he can, and the trajectory he's been on leads me to think that he hasn't reached the peak of his career just yet."
This edition of Profile was first broadcast on Saturday 18 September 2010. You can still hear it on the iPlayer or download the podcast.