Deputy PM Nick Clegg defends planned benefit cuts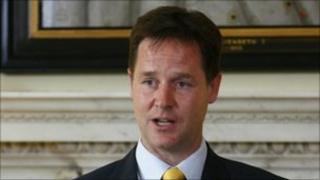 Nick Clegg has launched a staunch defence of benefit cuts ahead of the Liberal Democrat conference.
In an article for The Times, the deputy PM says welfare should be an "engine of mobility... rather than a giant cheque written by the State to compensate the poor for their predicament".
Mr Clegg has been under fire from backbench Lib Dems over claims planned cuts target the vulnerable.
But he said the system needed "root and branch reform".
He said cuts to the welfare budget were "unavoidable" in the current financial climate but, at the same time, "we will be simplifying the current Byzantine benefits system and providing real incentives for people to move off benefits and into work".
'Profoundly liberal'
And he vowed that the coalition government would bring "sanity" and "simplicity" to a system everyone knew was "broken".
Mr Clegg is expected to face a rough ride over the planned cuts at his party conference which gets underway in Liverpool at the weekend, with some backbenchers claiming he has broken his promise to ensure they are "fair".
Lib Dem MP Bob Russell last week forced Mr Osborne to face a Commons grilling after the chancellor revealed his plans for extra cuts, on top of the £11bn already announced in June's emergency budget, in a BBC interview.
But in his Times article, Mr Clegg makes clear he believes benefit reforms are essential and "profoundly liberal in intent and effect".
"Welfare needs to become an engine of mobility, changing people's lives for the better, rather than a giant cheque written by the State to compensate the poor for their predicament.
"Instead of turning the system from a 'safety net' into a 'trampoline', as Labour promised, people have been stuck on benefits, year in, year out."
Chancellor George Osborne is expected to unveil "several billion" in extra savings from the welfare budget in his October spending review.
'Stretched'
But - in what Labour claimed was a public row about the issue - Work and Pensions Secretary Iain Duncan Smith told MPs on Wednesday that he "simply doesn't recognise" the figure of £4bn that Mr Osborne indicated to the BBC would be cut, insisting that he was still in negotiations with the Treasury.
Mr Clegg's article comes as a report by a new think tank promoting better governance said the deputy PM, who does not have his own department, lacks clout and does not have enough senior civil servants on his staff.
It says the coalition is "working well" at the moment but to prevent it falling apart before its full term more Lib Dem junior ministers and special advisers should be appointed in Downing Street and in government departments.
And it says Mr Clegg's private office should be "beefed-up" with a top civil servant to run it and "a separate website and visual identity" to make clear to the public what he does.
The report, by the Institute for Government, also says Chief Secretary to the Treasury Danny Alexander is trying to do too much by combining the "mammoth" task of tackling the deficit with his continued role as Lib Dem policy supremo and is clearly "stretched".
It also warns that because Lib Dem ministers do not control any of the big spending departments they risk being sidelined in key policy-making processes.