End Labour's media obsession, says candidate Ed Balls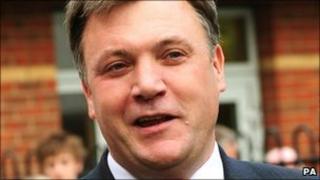 Labour leader candidate Ed Balls has said the party must end its obsession with courting favourable media coverage among right-leaning newspapers.
He told the BBC the practice had left Labour supporters confused and played a part in the party's election defeat.
Mr Balls said in future Labour had to present a clear and distinctive agenda.
Labour should argue for extra funding for schools, hospitals and housing, and a lowering of the threshold for the top rate of tax to £100,000, he added.
Mr Balls told BBC Radio 4's Today programme that the party under both Gordon Brown and Tony Blair had been guilty of trimming and fudging its message in order to appease certain newspapers.
Such an approach had damaged Labour at the last election by leaving supporters uncertain about the party's views and values, he said.
Voting system
On the issue of Labour's agenda, Mr Balls said the party should not seek to position itself as slightly to the left of the coalition.
The result of the leadership election is due to be announced on the eve of Labour's annual conference which starts in Manchester on 26 September.
There is an electoral college for the contest made up of three sections - MPs and MEPs, party members, and trade union and other affiliated bodies - each worth 33% of the final result.
Voters rank candidates on their ballot papers with the last candidate eliminated in each round and their second preferences reallocated until one candidate has more than 50% of total support.
This voting system can make results difficult to predict as it can come down to second or even third preferences if no candidate wins more than 50% in the first round.