Baroness Warsi urges church community role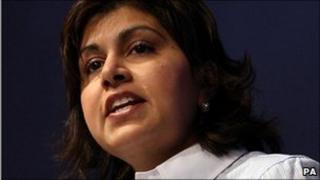 The government wants church leaders to play a greater role in local communities, Conservative party chairman Baroness Warsi has said.
On the eve of the Pope's visit, Lady Warsi criticised the previous Labour government over its attitude to faith.
In a speech to Church of England bishops, she said the coalition would have a very different view to Labour.
Lady Warsi said David Cameron's Big Society proposals would help faith groups become more involved.
'Too suspicious'
Speaking in Oxford, Lady Warsi promised a greater role for church leaders and a new approach to the role of faith in society.
She said there was a big problem over the way the state had handled faith and religion, and the previous government had got it profoundly wrong.
Lady Warsi, the first Muslim woman to serve in the cabinet, said the Labour government appeared to have viewed religion as "essentially a rather quaint relic of our pre-industrial history".
"They were also too suspicious of faith's potential for contributing to society - behind every faith-based charity, they sensed the whiff of conversion and exclusivity," she said.
"And because of these prejudices they didn't create policies to unleash the positive power of faith in our society."
'Banishing myth'
Lady Warsi will meet Pope Benedict on Thursday as the Pontiff starts his four-day state visit to the UK, taking in Scotland and England.
And referring to a famous comment by Tony Blair's former spin doctor Alastair Campbell that the Labour government did not "do God", Lady Warsi said she wanted to banish any suggestion the coalition would not "do God" either.
She said: "If anyone suggests that this government does not understand, does not appreciate, does not defend people of faith, dare I even say, does not 'do God', then I hope my schedule this week will go some way to banishing that myth."
She told the bishops that under the Big Society idea, churches, faith groups and charities would have more power, responsibility and choice over how to get involved in local communities.