Ed Miliband 'increasingly confident' in Labour race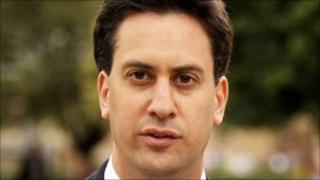 Ed Miliband says he is "increasingly confident" of victory in the race for the Labour leadership.
His aides say they are hopeful of a clean sweep win across each of the sections of the party's electorate - MPs and MEPs, unions and party members.
But backers of brother David, seen as front-runner in the contest so far, insist he has the broadest support.
The five leadership hopefuls are making their final pitches, with the result due to be announced on 25 September.
Ed Miliband told BBC Radio 4's Today he was confident Labour would be able to form a majority government and would not be reliant on doing any deals with the Liberal Democrats.
He is hoping to bolster support among MPs by pledging to lead the party back into power within five years.
And he strongly defended his decision after the election to rule out working with Nick Clegg who he accused of making an "historic mistake" by going into alliance with the Conservatives.
'Nothing for granted'
The man running David Miliband's leadership campaign said Ed Miliband was entitled to make his comments but he was not "convinced" by his analysis of the state of the race.
Douglas Alexander told BBC Radio 4's World at One that David Miliband had the broadest "coalition of support" among MPs - ranging from former Chancellor Alistair Darling to left-winger Dennis Skinner - and was widely seen as the man most able to "defeat the Conservatives".
He added: "We are not taking anything for granted. We are working for every vote."
The result of the leadership election is due to be announced in 10 days' time on the eve of Labour's annual conference in Manchester.
There is an electoral college for the contest made up of three sections - MPs and MEPs; Party members; Trade union and other affiliated bodies - each worth 33% of the final result.
Voters rank candidates on their ballot papers with the last candidate eliminated in each round and their second preferences reallocated until one candidate has more than 50% of total support.
This voting system can make results difficult to predict as it can come down to second or even third preferences if no candidate wins more than 50% in the first round.
A ComRes poll for Wednesday's Independent newspaper of 1,500 people who have voted Labour at least once since 1992, suggests David Miliband is the preferred candidate of 26%, followed by Ed Miliband on 11% with Diane Abbott on 8%, Ed Balls on 7% and Andy Burnham on 5%.