Lib Dem Charles Kennedy voices concerns over cuts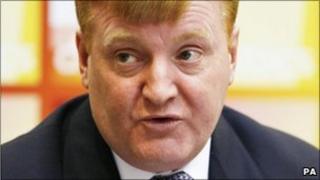 Former Liberal Democrat leader Charles Kennedy has voiced concerns about the possible effects of public spending cuts by the coalition government.
In an interview for BBC Scotland, he speaks of the need for "enlightened" public investment and expenditure.
Mr Kennedy says he is reluctant to become an irritant, sniping at the government from the sidelines.
But he warns those making decisions about spending not to throw the baby out with the bath water.
The MP for Ross, Skye and Lochaber reminds listeners he withheld his support when Lib Dem MPs were asked to approve the original coalition agreement with the Conservatives.
On Monday, Lib Dem backbencher Bob Russell told Chancellor George Osborn in an exchange in the Commons it was unethical to blame benefit cheats for economic problems.
Mr Osborne defended plans to make further cuts to the cost of welfare, saying current levels of spending on benefits could not continue.
He told MPs that further welfare cuts were needed to "take the pressure" off other government departments, which face cuts of between 25% and 40%.
Mr Osborne came under fire last week after he told the BBC that welfare spending was "completely out of control" and suggested people making a "lifestyle choice" to live on benefits rather than trying to find work could find their support cut.
The chancellor was asked to attend the Commons by the Speaker to answer an urgent question from Mr Russell, who was critical of the decision being announced in the media.
BBC political correspondent Ross Hawkins says Mr Kennedy's comments will do nothing to reassure the government that Lib Dem MPs with doubts about cuts will be willing to keep quiet before or after the publication of the spending review in October.
In other developments on Monday, delegates at the TUC annual conference backed joint industrial action if cuts in jobs, pensions and public services went ahead.