Labour and unions mustn't be meek, says Harriet Harman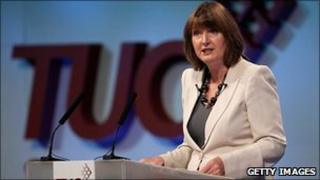 The Conservatives are "nasty" and Labour cannot be "meek" in opposing the coalition's spending cuts, Harriet Harman has said.
The acting Labour leader added that protest against government policies was "perfectly within the law".
Her comments to the TUC annual conference in Manchester come after delegates voted to back measures including industrial action.
The coalition said it was not seeking a "stand-off" with unions.
Opposition to the government's spending plans is set to be the dominant theme of this year's TUC annual congress, which got under way on Monday.
Unions have backed several motions denouncing ministers.
'Hostility'
Ms Harman, in one of her last engagements as acting Labour leader, said: "Communities need the support of the public services and industry thrives when government is on its side.
"And now they are going to cut the support to the most vulnerable - the disabled who cannot work. So much for the new politics - this is the same old nasty party."
She denounced Prime Minister David Cameron's call for a "big society" as an attempt to "justify spending cuts", while letting down the "vulnerable".
Spending cuts plans were "driven by ideology - the Tory hostility to the role of government", Ms Harman added.
TUC delegates voted overwhelmingly in favour of a motion calling for action including "industrial action", with some activists demanding a programme of strikes to force the government into a change of heart.
Some commentators have predicted a "winter of discontent" following October's spending review, when the details of cuts to Whitehall departments' budgets are expected to be revealed.
But Ms Harman said: "Far from trade unionists being eager to go on strike - nothing could be further from the truth. No-one wants to see services disrupted. Least of all those who work hard, day and night, to provide those services.
"We will not be silenced by the right wing characterising protest as undemocratic - trade unionists have the democratic right to protest.
"We will not be determined by suggestions that this is illegitimate - it is perfectly within the law."
'Determined, defiant, dogged'
She also said: "When it comes to protecting people and the services on which they depend, we are not going to be managerial. We are not going to be meek.
"We will stand alongside local communities and be determined in defence of jobs, defiant against the assault on our democracy, dogged in protecting the most vulnerable."
Speaking to a packed main hall at the Manchester Central centre - also the venue for Labour's conference later this month - Ms Harman argued that her party was attracting new members disillusioned with the Lib Dems.
More than 32,000 people had joined since May's general election.
Ms Harman, whose speech was greeted with applause, said: "Half of our new members are people who voted Labour but who now feel strongly that voting is not enough and want to play their part in getting Labour back into government.
"But a third of them are people who voted Lib Dem because they believed the Lib Dems would be a progressive, anti-Tory party and are dismayed that their vote has helped put the Tories in."
The five candidates to succeed Gordon Brown as permanent Labour leader are to take part in a hustings in Manchester on Monday evening - the last such event of the campaign.
Earlier, Cabinet Office minister Francis Maude told the BBC: "I want there to be a genuine partnership with the trade unions.
"They have an absolutely legitimate stake in what the government is going to do and we will listen very carefully to what they say and they arguments they make. There is no question about that.
"We are not going back to the days where there was a complete stand-off between the trade unions and the government. Those days are gone."