Five-year fixed parliament term too long, say experts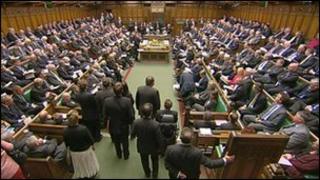 Fixed-term parliaments should last four years, not five as planned, constitutional experts have told MPs.
An MPs' committee criticised the Fixed Term Parliaments Bill as "unnecessarily rushed", "ill thought through" and possibly open to legal challenge.
They praised the intention to stop PMs choosing when to call elections but said the bill needed more work.
The government said political reform was central to its plans and it wanted to get on with it quickly.
The political and constitutional reform committee rushed out its report so MPs could see some of the concerns about the bill before it is debated next Monday.
Unwritten constitution
It criticised lack of a draft bill for MPs to examine, despite there being no rush to bring it in as Prime Minister David Cameron had already indicated he would not call a general election before May 2015.
Among its main concerns was the proposed length of the Parliament, which experts suggested should be shorter.
The government had justified the length by saying it went "with the grain of some of the founding texts of our unwritten constitution" - the maximum length of a Parliament was curtailed from seven years to five in 1911.
Deputy Prime Minister Nick Clegg also said it followed the previous government's precedent and would "give any government of whatever complexion enough time to govern and deliver a programme of change and reform".
But the committee points out that the expectation of the 1911 changes was that five years would be the maximum - and, in practice, terms were expected to be four years.
Since 1979 four general elections were called after four-year parliaments, while three, in 1992, 1997 and 2010, were called after five years.
Constitution expert Professor Robert Hazell told the committee: "Those parliaments which lasted for five years did so because the government had become unpopular and did not want to hold an earlier election.
"The prime minister stayed on hoping that his or her party's luck might change."
Another constitutional law expert Professor Robert Blackburn also told MPs that when parliaments lasted five years "the last year of every one has been pretty awful".
'Super majority'
And the committee pointed out that the Scottish, Welsh and Northern Ireland governments were expected to govern with four-year terms.
It says there would be a "practical consequence" of allowing this parliament to last five years, then limit future ones to four years - because it would put UK elections in step with the four-yearly elections to the Scottish Parliament, Welsh Assembly and Northern Ireland Assembly - all scheduled for 7 May 2015.
"Most of the opinion we have received in the limited time available to us suggests that it would be better for general elections to be held every four years, rather than every five as the government proposes," the report said.
It suggests the government should "explain more fully" to MPs the advantages and disadvantages of both four and five-year terms and how it reached its verdict.
The Conservatives and Liberal Democrats agreed to introduce fixed term parliaments as part of their coalition agreement. But if a government lost the confidence of MPs before the five years was up, the bill contains provisions for parliament to be dissolved.
An election could be called early, if the government lost a no confidence motion and a new government, which had the confidence of the Commons, could be formed within 14 days. An early election could also be triggered if a "super majority" of two thirds of MPs voted to dissolve Parliament.
The committee heard this week from the Commons' most senior official - Malcolm Jack - this week that he was concerned about possible legal challenges to the bill but noted that its other expert witnesses felt the bill was drafted sufficiently to avoid a court battle.
But it suggested any new parliament should only last as long as the old one was due to run to dissuade an incumbent government deliberately triggering a confidence vote.
For example, if an election was called three years into a five-year parliamentary term, another election would be held two years later.
Other recommendations include making any attempt to call an early election dependent on a cross-party agreement - to avoid benefiting one party.
Committee chairman Graham Allen said: "The severe lack of time which the committee has had to scrutinise this important Bill, which addresses such a fundamental issue as when people get to vote, is not only frustrating but very disappointing.
"The bill sits in complex legal territory and has suffered as a result of a scrutiny bypass."
But he said "forgoing the prime ministerial perk of fixing the date of a general election" was "a serious and welcome rebalancing of the powers of government over Parliament".
The prime minister's spokesman said: "Political reform, and in particular fixed-term parliaments and the reforms to voting, are a central part of the coalition programme.
"We have always made clear it was our intention to get on with these parts of the programme as quickly as possible."