Justice Minister Djanogly defends detective use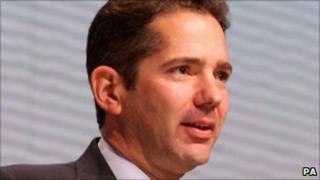 A Tory justice minister has said he paid private detectives to investigate his colleagues because he was upset about "malicious" newspaper stories.
Jonathan Djanogly said he felt his privacy was invaded during the expenses row - but he may have overreacted.
The Telegraph revealed a copy of the report by Morris Chase International.
Local Tory Derek Holley, one of those targeted, said the MP should consider his position, but Number 10 said he had David Cameron's full confidence.
The report was gathered for the MP for Huntingdon when he was shadow solicitor general at the height of the expenses scandal in July 2009.
That month he got the backing of his local constituency party after a meeting called to "clear the air".
It followed various stories about Mr Djanogly's expenses - including that he claimed more than £13,000 for a cleaner who was also his au pair, an allegation he had denied.
'Wet fish'
The Daily Telegraph said the report showed the MP instructed the firm to conduct "discreet inquiries under the pretext of writing a newspaper article" to establish the views of people including a former council leader. Mr Djanogly said he had wanted to find the source of the stories.
The report apparently turned up some criticism of Mr Djanogly locally, finding a Facebook protest group entitled Ditch Djanogly and quoting a local Conservative who suggested Mr Djanogly's wife had little interest in the local Conservative association "which does not go down well in a traditional Tory constituency like Huntingdon".
Other quotes in the report suggest he was thought a "wet fish" who "sits on the fence on every issue" and should be deselected.
One of those targeted by private detectives, Tory ex-leader of Huntingdonshire district council Derek Holley, told the BBC: "I'm very angry about it because I'm a fairly upfront sort of guy and I would have much rather he'd come up to me and asked me directly and I'd have told him yes or no."
He said: "I've been in local politics and associated with national politics for 34 years, and I've never ever experienced anything like this in the whole of that time. He's got to consider his position as justice minister, I would have thought."
Morris Chase International said all the information gathered was obtained legally and Mr Djanogly stressed he would "never have contemplated condoning anything unlawful or dishonest".
'Extremely upset'
In a statement, the minister said: "Following a series of malicious allegations made against me in newspapers last year, I felt I had to act to find out who was spreading these untrue stories.
"I instructed a firm of private investigators to try to find out the source of these stories because I was extremely upset that my private family life had been invaded."
Mr Djanogly said the findings had been sent to him "on a confidential basis" and he was "very disappointed" to see the report released publicly without his consent.
"I am sorry if some people judge that I made a mistake. With hindsight I can see that I may have overreacted, but I was being subjected to very malicious, anonymous attacks on my family," he said, adding that he paid for the cost of the investigation and did not claim it back on parliamentary expenses.
But shadow justice minister, Maria Eagle, told the BBC: "I think it's a serious lapse in judgement. If his judgement can lapse so seriously when he's under a little bit of pressure in that respect, is he really in the right place?
"The Ministry of Justice has serious matters to consider on a daily basis. Somebody who has judgement like that ought really to consider whether or not they are in the right place and if he won't consider it, the prime minister should have a good look at it."
The prime minister's spokesman said Mr Djanogly still had David Cameron's full confidence.
"The PM will judge him on his performance as a minister," he said.
"He has said himself that with hindsight he may have overreacted."
Last year Mr Djanogly repaid £25,000 - one of several Tory MPs to repay claims after talking to the party's own expenses scrutiny panel, to show the party's "determination to respond" to public concern over expenses.