NI cards to be axed to save money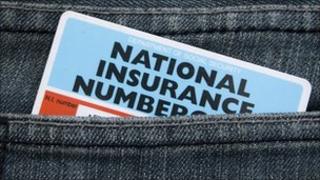 National Insurance cards are to be phased out, and spare furniture sold online, under government plans to cut the deficit, the BBC has learned.
The government has also decided to cut the number of criminal checks for junior doctors.
The ideas, expected to save at least £1m a year, were chosen from about 100,000 put forward by members of the public and civil servants.
One union said getting the public to suggest cuts was a gimmick.
During the summer, the Treasury set up a website looking for suggestions on how to save money, eventually receiving more than 100,000.
The National Insurance idea involves replacing the card with a letter for people reaching the age of 16 from late next year. It will tell them their unique NI number.
Criminal Record Bureau (CRB) checks for junior doctors moving between postings will no longer be carried out every six months under the plans.
In future, hospitals would be allowed to use their own "judgement", the coalition said.
And for spare furniture, an eBay-style website would be used to sell off old items such as computers and desks.
More of the public's suggestions could become policy in future.
The government wants to reduce the budget deficit - which hit £155bn last year - by £80bn.
The GMB union believes that asking the public for ideas is a political gimmick designed to give the impression of support for the cuts.
But Chancellor George Osborne has said it is a 21st Century approach which will save money and involve people in the spending decisions affecting them.
A spokeswoman for the Department of Health said guidelines already stated that junior doctors should only get CRB checks every three years.
She said the changes were about making sure the NHS stuck to them and followed a "more common sense approach".
BBC News website readers have been sharing their thoughts on cutting the deficit.
I think phasing out the NI cards is a fantastic idea. Let's face it, what is it actually for? I've had mine for about 15 years and never had to use it, produce it or show it to anyone. Replacing it with a letter sounds like a great way to save money. Robert Slater, Bedford
Before the plastic card, people were often unsure of their NI number. This leads to incorrect NI details being given on various documents which will lead to inconsistencies over the person's record. This will also make it more difficult to trace the real person in relation to criminal activities, such as tax evasion and obtaining borrowed money by fraudulent means. A very small monetary saving now with potentially massive problems later on. Peter Stone, Basildon
This is madness. The National Insurance card is one of the few identities one does have in this country that applies to everyone. It is also one way you can track down illegal immigrants. Instead of abolition, the government should tighten up the rules as to who should qualify for NI. Jaya, Manchester
I am at a loss to understand why it is necessary to carry out a CRB check every time a different post is taken up, even if it's within the same organisation. This is regardless of when your last check was done, even if it is with the same parent organisation. It costs the time of a lot of public servants and a lot of public money for this to happen. Why can't those who need CRBs have one CRB passport which has to be renewed biannually? T Walker, Shaftesbury, Dorset
Regarding CRB checks for junior doctors - after an initial clearance check when the NHS engages a new employee could the system not be changed so that any criminal conviction is automatically flagged to the NHS personnel departments. In fact why not introduce this for all professions? John Lane, Lustar, France
My way to help cut the deficit would be to come down much harder on law breakers. Law and order is getting worse by the minute. I dread to think of what money we waste in our prison service. Rather than taking the "softly softly" route, make the punishment fit the crime. Fred Hines, Braintree, Essex