Robert Chote to head Office for Budget Responsibility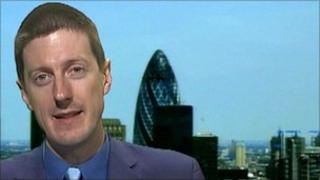 Economist and former journalist Robert Chote is to become the new head of the Office for Budget Responsibility (OBR).
Mr Chote, 41, who currently works for the Institute for Fiscal Studies, will succeed Sir Alan Budd who stepped down from the post last month.
Chancellor George Osborne established the OBR in May to provide analysis of the public finances, government borrowing and other economic data.
He has defended the body against critics who question its independence.
Mr Chote, a former Independent and Financial Times journalist and former International Monetary Fund adviser, is currently director of the IFS - a think tank which has become widely respected for its economic analysis.
The IFS said last month that the coalition's government's first Budget was "regressive" and the lowest paid would be worst affected - analysis rejected as "partial" by Deputy Prime Minister Nick Clegg.
The appointment, which is subject to parliamentary approval, was announced by Mr Osborne.
Mr Osborne said Mr Chote's "experience and suitability" for the role was "beyond doubt".
"As Director of the Institute for Fiscal Studies, he has been one of the most credible independent voices on the public finances, taxation and public spending," the Chancellor said.
"I hope that the Treasury Select Committee will approve this appointment so that he can lead the OBR in its important work over the next five years."
Mr Chote said he was "delighted" to have been nominated and that if the Treasury Select Committee confirmed his appointment the watchdog would present judgement "without fear or favour".
"The creation of the OBR is a great opportunity to ensure that the tax and spending decisions of this and future governments are informed by demonstrably rigorous and independent analysis of the outlook for the public finances and the economy," he added.
The Office for Budget Responsibility was formed in May with a brief to make an independent assessment of the public finances and the economy for each Budget and pre-Budget report.
Mr Osborne said the aim was to stop ministers manipulating data and forecasts for political purposes.