David Cameron's family pay tribute to 'amazing' father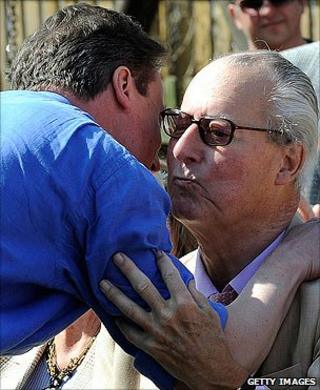 David Cameron and his family have paid tribute to their late father, describing him as an "amazing man" who had "touched a lot of lives".
Ian Cameron, who was 77, died on Wednesday after suffering a stroke and heart complications while on holiday in France.
The prime minister, who flew to be at his father's bedside, said he and his family would "miss him terribly".
"We will treasure all the joy he brought us," they added in a statement.
Ian Cameron died shortly after the PM arrived at the hospital in the South of France.
'Life enhancer'
In a statement, Mr Cameron - who remained in France overnight - and his family said: "Our dad was an amazing man - a real life enhancer. He never let the disability he was born with or the complications in later life get in the way of his incredible sense of fun and enjoyment.
"He touched a lot of lives in lots of different ways and was a brilliant husband and father. You could never be down for long when he was around. We will miss him terribly but have a bank of memories that can never be exhausted.
"This was unexpected and sudden, but he was having a wonderful holiday and was with great friends. Above all he was with mum, to whom he was devoted, and he was happy - and the end came quickly. We will treasure all the joy he brought us."
The prime minister personally thanked French President Nicolas Sarkozy for arranging a helicopter to take Mr Cameron to the hospital so he could see his father.
"I am extremely grateful to President Sarkozy who helped me get to the hospital while dad was still with us so I could say goodbye.
"We would like to thank Nicolas and everyone at the hospital who worked so hard to look after dad."
Ian Cameron was born with both legs deformed, and endured repeated operations in an attempt to straighten them and ease his pain. Despite his disability he forged a successful career as a stockbroker and was a former director of estate agent John D Wood.
After May's election, Ian Cameron - who visited both Downing Street and Chequers in recent months - said he always believed his son had what it took to become prime minister.
The prime minister has said his parents' record of public service - his father sat on parish and church councils while his mother is a magistrate - inspired him to go into politics and informed his vision of a "big society".