Cameron-Clegg coalition deal to be scrutinised by MPs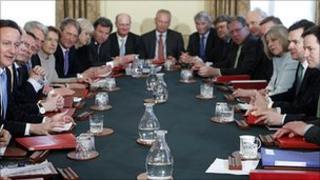 MPs are to examine how the coalition was formed after the general election and the issues arising from the negotiations between the two parties.
Five days of drama in May resulted in the first coalition in nearly 70 years.
The Political and Constitutional Reform Committee will consider whether undue pressure was put on Gordon Brown to quit after the inconclusive poll.
It will also look at how policies in neither Tory nor Lib Dem manifestos became part of the coalition agreement.
The Conservatives and the Lib Dems agreed a power-sharing deal after the election produced the first hung Parliament since 1974 and the Lib Dems had also held talks with Labour about a possible alliance.
The committee is to look at the constitutional and practical issues resulting from the coalition's formation and whether pre-election principles set out by the Civil Service for dealing with a hung Parliament were followed.
These principles stressed that the prime minister has the right, and is obliged, to remain in office until it is clear that he cannot form a government and can recommend that somebody else is able to.
'Popular mandate'
Mr Brown decided to resign after negotiations between Labour and the Lib Dems broke down but several politicians have expressed surprise he made the move before it was confirmed the Tories and Lib Dems had reached a governing agreement.
In a phone conversation with Lib Dem leader Nick Clegg shortly before his decision, Mr Brown told him that he could not "hold on" any longer and had to tender his resignation to the Queen.
Mr Cameron told the BBC in July he was "surprised" at the timing of Mr Brown's departure and he was not "totally sure" what sort of government he would lead when he accepted the Queen's invitation to take office as talks were still taking place.
The committee wants to know what impact criticism by the media of the former prime minister - some of whom accused Mr Brown of "squatting" in No 10 after Labour won nearly 50 fewer seats on the Conservatives - had on Mr Brown's decision and whether this could have been "mitigated".
Other key questions it will be asking include how coalition policies not included in either party's manifestos - such as the pledge to hold a referendum on the Alternative Vote electoral system - came to feature in the coalition agreement.
It wants to know the implications of the fact that this and other policies may lack a "popular mandate".
The committee, chaired by Labour MP Graham Allen, says it will invite representatives from all three parties - as well as civil servants involved in the negotiations and constitutional experts - to appear before them.