Ministers consider case for David Kelly death inquest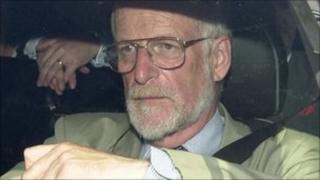 Ministers have met to discuss whether to release information about the death of government scientist Dr David Kelly and to hold a formal inquest.
It is understood Justice Secretary Ken Clarke is considering whether to release papers on Dr Kelly's autopsy.
The weapons expert's body was found in 2003 near his Oxfordshire home after he was exposed as the source of a BBC story on the grounds for war in Iraq.
In his 2004 inquiry, Lord Hutton found that Dr Kelly had committed suicide.
But several legal and medical experts have questioned the official cause of death, given as a haemorrhage, and called for an official inquest to take place.
The then Prime Minister Tony Blair asked Lord Hutton to conduct an investigation into Dr Kelly's death instead of an inquest.
'Under consideration'
Mr Clarke met Lord Hutton on Tuesday and Attorney General Dominic Grieve on Wednesday to discuss the case.
BBC home affairs correspondent Danny Shaw said it was understood that no decision has been reached on whether to release medical papers or to ask the High Court to order a fresh inquest, and that further discussions were required.
A spokesman for the Ministry of Justice said a request for the release of medical papers was "currently under consideration".
Lord Hutton's inquiry found 59-year-old Dr Kelly died from blood loss after slashing his wrist with a blunt gardening knife.
But several legal and medical professionals have questioned the verdict as "extremely unlikely" in the light of new evidence.
In a letter to the Times earlier this year, former coroner Michael Powers, a former deputy coroner Margaret Bloom, and Julian Bion, a professor of intensive care medicine, claimed Lord Hutton's conclusion was unsafe.
They argued the wound to Dr Kelly's wrist was unlikely to be life-threatening unless an individual had a blood-clotting deficiency as "insufficient blood would have been lost to threaten life".
But the pathologist who performed the post-mortem examination on Dr Kelly's body has insisted that his was a "textbook case" of suicide.
In August, Nicholas Hunt said the scientist's death was a "classic case of self-inflicted injury" and he believed an official inquest would confirm this.