Tony Blair cancels second book event amid protest fear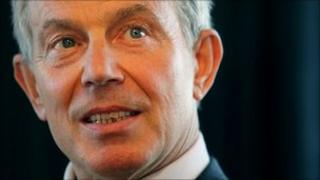 Tony Blair has cancelled a second event related to his memoirs amid threats of disruption by an anti-Iraq war protest.
He will not now attend a function at the Tate Modern gallery in London later, having already pulled out of another book signing in the city.
The cancellations follow protests in Dublin at the weekend, in which eggs, bottles and shoes were thrown towards the former prime minister.
Those behind the planned protest said Mr Blair was "running scared".
Campaigners against the wars in Iraq and Afghanistan had planned to demonstrate outside the Tate Modern event.
'Big victory'
Mr Blair's spokesman said: "It has been postponed for the same reason as the book signing. We don't want to put our guests through the unpleasant consequences of the actions of demonstrators."
Lindsey German, convenor of the Stop The War Coalition, which had planned the protest, said it was a "big victory".
She added: "It shows he is running scared. The people who say we should not protest are denying us the right to persist in asking questions about the war and denying the rights of Iraqis who are still suffering because of Blair's policies."
Announcing on Monday that he was cancelling the book signing at Waterstone's in Piccadilly, which had also been scheduled for Wednesday, Mr Blair said: "I don't want the public to be inconvenienced by the inevitable hassle caused by protesters."