Top adviser warns over proposed immigration cap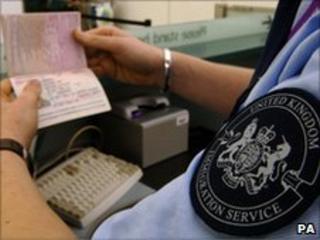 A top government adviser says ministers may need to stop workers bringing families to meet an immigration cap.
Prof David Metcalf said ministers may also stop companies freely moving their own staff in and out of the UK, despite a potential coalition rift.
The government has pledged to cut net immigration to tens of thousands by introducing a cap from next April.
Business leaders warn a cap could be damaging - but ministers say firms must rely less on foreign workers.
On Monday, immigration minister Damian Green said that the number of foreign students let into the UK was unsustainable.
Shortly after taking office, Home Secretary Theresa May announced a temporary limit of 24,000 on the number of migrant workers from outside the EU who would be allowed into the UK.
Ministers are consulting on how next year's cap should work and the Migration Advisory Committee, chaired by Prof Metcalf, will recommend a figure to government within weeks.
The final figure for the cap may be announced before the end of the year.
Prof Metcalf told the Home Affairs Select Committee that the target of reducing migration to tens of thousands a year could not be achieved simply by restricting work visas for people from outside the EU.
Last year net immigration touched 196,000 people and non-EU workers comprise about a quarter of that total. The figures show that for every five people who enter the UK on a work visa under the UK's points-based system, four dependents eventually follow.
"If students and family don't take their proportionate share, then work, which is the smallest of the fractions, will have to take a more than proportionate share," he said.
Point system
"To reach the [net target of] tens of thousands from hundreds of thousands, you have got to be thinking about dependents," said Prof Metcalf.
One possible option, said Prof Metcalf, would be to give points to the partners of work visa applicants, making entry easier for spouses with higher qualifications or skills that were more in demand.
The two most important categories for entry for workers from outside the European Union are known as Tier One and Tier Two.
But Prof Metcalf said: "If you close down Tier One and Tier Two, you still won't get down to tens of thousands."
Prof Metcalf said that multinational firms that move their own staff in and out of the UK through Tier Two, a process known as intra-company transfer, would probably take the "lion's share" of the visa cuts because their workers make up the largest number of skilled workers from outside the EU.
Intra-company transfers were not included in the temporary cap - and business leaders have already warned that restrictions could be damaging.
They argue that such transfers have no affect on overall migration because the workers involved are either replacing another member of staff or leave after completing their particular contract.
They have been supported by Business Secretary Vince Cable who says that any restrictions need to be flexible enough to allow companies to conduct their business. Prime Minister David Cameron has sought to play down cabinet differences over the cap.