Audit Commission living on past glory, says Pickles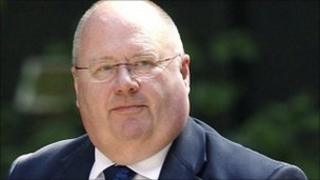 The government has defended its decision to scrap the Audit Commission, saying the organisation is "living on past glory".
Communities Secretary Eric Pickles said ending the local government spending watchdog would save £50m a year.
It had once been "great" but had not moved with the times and had become less effective, he told MPs.
But Labour accused the government of "destroying" an institution which had "improved" councils' accountability.
The coalition government announced last month that it was scrapping the Audit Commission, which covers England only, as part of its programme of spending cuts aimed at reducing the budget deficit.
Upon its abolition, which should be enshrined in law in 2012 or 2013, the organisation's powers would be taken over by other auditors in the private and public sectors, Mr Pickles said in a statement to the Commons.
'Accountability'
Councils would have a greater choice when searching for value for money in having their accounts checked, Mr Pickles said.
He added: "These changes will pass down to people and replace bureaucratic accountability with democratic accountability and save the taxpayer £50m a year."
Local authorities would "be free to adopt their own independent, external auditors from a more competitive and open market", he argued.
Mr Pickles said: "[The Audit Commission] was once a great organisation. It did much to challenge local government. But local government has changed itself and it's time to move on... The Audit Commission itself cannot live on past glory."
Labour has criticised the communities secretary for announcing the scrapping of the commission while MPs were away during the parliamentary summer recess.
But he said this was necessary, as the news would have leaked out otherwise.
The commission, which employs 2,000 staff, was set up by Margaret Thatcher's Conservative government in 1983. It monitors spending by councils and some health organisations.
For Labour, shadow communities secretary John Denham said: "The Audit Commission was not perfect, but isn't the secretary of state destroying one of the things that is there to ensure challenge and improvement?"
He added: "The move will end up costing more than it will save."