Blair and other ex-PMs 'must help fund protection'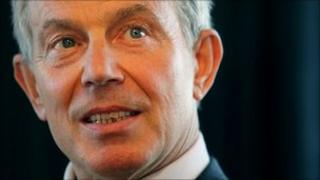 Tony Blair and other former prime ministers should pay towards their police protection, a Labour MP says.
Roger Godsiff has tabled a Commons motion calling for an "urgent review" of security funding for ex-PMs who make money from "commercial activities".
Mr Blair is estimated to be worth £20m, with his protection said to cost up to £6m a year.
He cancelled a book signing in London this week, amid planned anti-Iraq war protests.
Without naming Mr Blair specifically, Mr Godsiff's motion says "former politicians should pay towards the cost of their own police protection when they receive income from commercial activities when they are accompanied by bodyguards paid for by the UK taxpayer".
'Austerity'
The MP told the BBC News website: "It's not only Tony Blair. It's aimed at all ex-prime ministers and ex-ministers... It just so happens that Tony Blair is in the limelight at this time."
He added: "It's surely a matter of principle at a time when the government is carving away left, right and centre."
Mr Godsiff, MP for Birmingham Hall Green, also said that, when a retired public figure who required protection carried out lucrative commercial work, they should "pay for" any extra costs incurred, particularly at a time of "austerity".
He added: "You could drop £6m into my constituency and, I tell you, there are a thousand and one organisations who do excellent work who would be delighted to have a small percentage of that."
The motion is also signed by Labour MP John McDonnell, who unsuccessfully attempted to run against Gordon Brown when Mr Blair stepped down as prime minister and party leader in 2007.
Mr Blair, who has disputed reports that he is worth £20m, had been due to sign copies of his memoirs - entitled A Journey - in central London on Wednesday, but cancelled following anti-Iraq war protests at a similar event in Dublin at the weekend, in which eggs and shoes were thrown.
He said: "I don't want the public to be inconvenienced by the inevitable hassle caused by protesters."
It was reported that police protection for the London event - for which another protest had been planned - would have cost £250,000.