Coulson phone hacking claims 'recycled' says Gove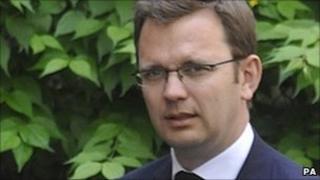 Allegations surrounding No 10 aide Andy Coulson and phone hacking at the News of the World are being "recycled", a senior Cabinet minister has said.
Michael Gove said the police decided "there was no case to answer" over claims public figures had their phones tapped while Mr Coulson was editor.
Three leading Labour figures have urged further action on the issue but Mr Gove said this was politically driven.
Mr Coulson has said he never "used or condoned" phone hacking while editor.
Mr Coulson - who is David Cameron's director of communications - has received strong backing from No 10 which says he "totally and utterly" rejects claims he was aware of any wrongdoing.
Mr Coulson came under fresh pressure last week after former journalists told the New York Times that the practice of phone hacking was far more extensive than the newspaper acknowledged at the time and one ex-reporter said he had been personally told by Mr Coulson to intercept phone messages.
'Heard before'
But Mr Gove told the Andrew Marr programme "there seems to be a recycling of allegations we have heard before."
He added that this seemed to be a product of newspaper "circulation wars" in the US.
Labour leadership contender Ed Balls has said home secretary Theresa May must assure MPs that the allegations would be properly investigated, arguing that Mr Coulson's role at the heart of No 10 meant that the government's "integrity" was under question.
Former Labour minister Tessa Jowell, who says her phone was hacked 28 times, and former deputy prime minister Lord Prescott, who also believes he was targeted, have also called for action.
The News of the World's royal editor, Clive Goodman, was jailed for conspiracy to access phone messages in 2007, but the paper insists it was an isolated case.
In 2009, the Metropolitan Police chose not to launch an investigation into claims that News of the World journalists were involved in widespread phone hacking of several thousand celebrities, sports stars and politicians.
Taking responsibility
As well as the police investigation, Mr Gove said a House of Commons committee had found no evidence last year that Mr Coulson either authorised or was aware of any illegal activity by reporters in his time as editor.
He said it was often "overlooked" that Mr Coulson, by resigning as editor in 2007, had taken responsibility for what had happened over the Goodman case even though there "was no evidence he knew what was going on".
Calls for fresh inquiries were all being made by Labour politicians, he stressed.
"There is an element of the party political about it," he said.
The News of the World has said the latest allegations were "unsubstantiated" and the claims of "disgruntled" former employees should be treated with "extreme scepticism".
The newspaper said it rejected absolutely suggestions "of a widespread culture of wrongdoing".