Shift from New Labour 'backed by poll findings'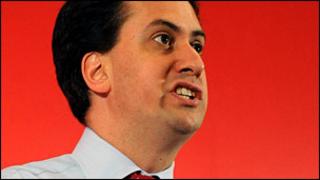 Labour leadership challenger Ed Miliband has dismissed ex-PM Tony Blair's advice not to move a "millimetre" away from New Labour.
A YouGov poll commissioned by Mr Miliband's campaign team found 72% of those considering voting Labour would be less likely to do so if the new leader adopted this position.
But "moving on" from New Labour made 47% more likely to support the party.
The poll of more than 2,000 adults was completed over the last few days.
Mr Miliband said: "We must change to win. Not moving a millimetre from New Labour, as some have argued, is the path to another election defeat."
Mr Blair suggested in his memoirs, published on Wednesday, that Labour had lost the 2010 election because it had backed away from further New Labour reforms.
And in a recent interview with the BBC's Andrew Marr, Mr Blair suggested the party's best strategy was to "not move a millimetre from New Labour".
Similarly, Lord Mandelson said Labour could be left in an "electoral cul-de-sac" if Gordon Brown's successor tried to create a "pre-New Labour party".
He appeared to be referring to Mr Miliband in particular, in what was seen as a personal attack as the party's leadership contest enters its final stages.
But the Ed Miliband campaign poll found only 28% of respondents were more likely to vote for the party if the next leader took Mr Blair's advice.
Some 13% said they were less likely to vote for the party if it moved away from New Labour policies.
In an interview with the BBC, Mr Miliband said both Mr Blair and Gordon Brown had been "fantastic servants for our party and our country", but it was time to "move on from the New Labour establishment".
'Change to win'
He said the party had lost five million votes since its 1997 general election landside, and Labour had to have the "courage to change" in order to win back power.
"The only way to win back the five million voters whose support we lost is to demonstrate that we have turned the page on New Labour and set out a new approach," he added.
Voting in the contest to succeed Gordon Brown is now open to Labour Party members, and members of affiliated trade unions and socialist societies. The winner will be announced on 25 September.