Labour politicians call for new phone hacking inquiries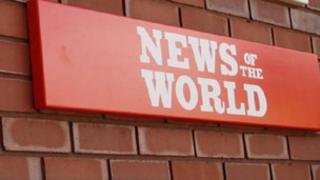 Labour politicians have urged fresh inquiries into phone hacking claims surrounding the News of the World.
Lord Prescott said he would go to court to find out if his phone was tapped. Ex Home Secretary Alan Johnson said last year's police probe could be reviewed.
A former reporter on the paper told the BBC he had been asked to hack into phone messages by Andy Coulson, then editor, now an aide to David Cameron.
No 10 said Mr Coulson "totally and utterly" denied the allegations.
The News of the World said the claims by Sean Hoare, who it said had been dismissed from the paper, should be treated with "extreme scepticism".
The News of the World's royal editor, Clive Goodman, was jailed for conspiracy to access messages in 2007 but the paper maintained that that was an isolated case.
Calls for further action by Labour politicians were prompted by allegations in the New York Times about the extent of phone hacking which went on at the News of The World.
Last year, the Metropolitan Police chose not to launch an investigation into claims, made by the Guardian newspaper, that a host of public figures - including Lord Prescott - had had their messages hacked by journalists there.
At the time, it said the evidence did not warrant it and suggested Lord Prescott's phone had not been tapped.
It reiterated that on Friday, rejecting suggestions that it had failed to follow up clear leads or come under pressure not to proceed with a full investigation.
While it was seeking clarification from the New York Times about its allegations, it said the investigation remained closed.
Lord Prescott said he wanted to "find the truth" about whether he had been targeted by journalists and would seek a judicial review unless the police supplied him with information in its possession by next week.
Fellow Labour MP Chris Bryant believes he was also targeted but said he had not been informed by the police. Solicitors acting for the MP said they would challenge the Met's decision in court.
And the BBC understands former Labour cabinet minister Tessa Jowell has said her phone was hacked 28 times, according to police, at a time when Mr Coulson was the paper's editor.
'Dark arts'
Separately, shadow home secretary Alan Johnson said there was a case for Her Majesty's Inspectorate of Constabulary to review the Met's handling of the case and he would ask to see Home Office files on the allegations.
However, Conservative MP and government minister Alan Duncan, speaking on Radio 4's Any Questions, said comments by Labour MPs were part of a concerted campaign to attack the government.
"Things are getting ramped up in the media based on rumour and innuendo and, as in the William Hague case, I don't think it's acceptable in this case. And unless anybody comes forward with any clear evidence this is not something that should be pursued," he said.
Mr Hoare, one of the sources for the New York Times' allegations, told the BBC that phone tapping was "endemic" within the industry and he had been personally "requested" to do so by his then editor Andy Coulson.
"He was well aware that the practice exists," he told Radio 4's PM programme.
"It was always done in the language of 'Why don't you sort of practice some of your dark arts on this' which was the metaphor for saying 'Go and hack into the phone'," he explained.
And former News of the World sport reporter Matt Driscoll said he thought it was "unconceivable" that Mr Coulson would have been unaware of phone hacking practices when he was at the paper because "he would be a part of all the big stories that were being made by the paper".
Mr Coulson resigned after Mr Goodman - and a private investigator - were jailed in 2007, saying he took responsibility for the incident while insisting he was not aware of what the journalist had done and never sanctioned his activities.
He told a Commons committee which looked into the allegations last year that he never "used or condoned" phone tapping and was deceived by the journalist concerned.
While critical of the conduct of the News of The World's journalists, the Culture Committee found no evidence that Mr Coulson either approved of or was aware that phone tapping was taking place.
But Mr Hoare told the BBC that for Mr Coulson to "stand up in front of a Commons committee and say 'I was unaware of this under my watch' was wrong".
The News of the World said the New York Times allegations "contained no new evidence".
'Unsubstantiated allegations'
"It relies on unsubstantiated allegations from unnamed sources or claims from disgruntled former employees that should be treated with extreme scepticism given the reasons for departures from this newspaper," it said in a statement.
"We reject absolutely any suggestion there was widespread culture of wrongdoing at the News of the World."
No 10 has said Mr Coulson has repeatedly denied any wrongdoing in relation to the case and said he stood by his evidence to the Culture Committee last year.
The BBC's Political Correspondent Gary O'Donoghue said there is "some political advantage to the Labour party to stir up as much trouble as possible for Andy Coulson" because he is "central to the Downing Street operation" since he is "very close to David Cameron and extremely important to what he does".
Our correspondent said No 10 "totally and utterly rejected the idea that he allowed anyone [or] asked anyone to hack into any phones".
"Asked whether or not his position was in doubt, one very senior source in the government said Andy is going nowhere," he said.