UKIP considers leadership hopefuls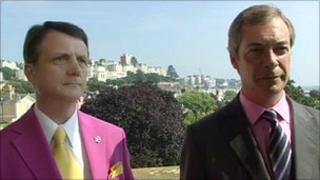 Not many people resign from a job saying it is too much for them one year, and ask to have it back the next.
That is what Nigel Farage has done with the UK Independence Party leadership.
In 2009, he shocked his party conference with his confession the workload was too great, and said he wanted to stand down to contest a Westminster seat at the general election.
He was well beaten in that contest, failing to topple the House of Commons speaker John Bercow in his Buckingham constituency. Mr Farage came third, behind a local democracy campaigner, despite the absence of Tory, Labour and Lib Dem candidates.
On polling day he was injured in a light plane crash. He says he lacks the stamina he once had and may need surgery in the future.
The man he backed as his replacement and described as the only credible candidate, Lord Pearson, resigned after nine months as UKIP leader saying he was no good at party politics.
And yet when Mr Farage stood in the conference hall the delegates rose to their feet and applauded. When he asked them whether he should stand for leader, they whooped approval.
It had something of the air of a preacher's gathering, with a preacher who could be found afterwards puffing a pipe and supping a substantial glass of red wine.
He is a crowd-pleaser.
Discontent
His opponents suggest - indirectly at least - he may be little more than that. When the party's deputy leader, MEP David Campbell Bannerman, criticised "showboating" in his address to conference, his target was clear.
Mr Campbell Bannerman, a former Conservative adviser, had plenty of other criticisms. He accused UKIP of being unprofessional and said it needed to grow up.
His fellow MEP and leadership candidate Gerard Batten, campaigning in a bright pink UKIP blazer, said he wanted to make the party more radical and take it forward so it appealed across the board of electors.
He also called for a full proportional representation voting system, which he said would mean his party would come second or third in the next general election.
It is not difficult to find discontent among UKIP members. Many were upset by Lord Pearson's policy of not challenging Eurosceptic Conservative candidates at the general election. His media performance during the campaign also attracted ire.
The fact the Green Party won its first seat at Westminster while UKIP failed is a particularly sore point.
One MEP who lost the party whip in March after refusing to sit in its parliamentary group, Nikki Sinclaire, has driven to Torquay to park a brightly coloured signwritten van conspicuously lacking UKIP's branding, outside the conference centre.
She intends to try to contest the leadership, while economist Tim Congdon and former boxer Winston McKenzie also hope to stand.
All of them will need the support of 50 members to get on the ballot paper. But the field of candidates may be large.
They will each have plenty of opportunities to publicly debate the party's performance, and to make the case against the return of Nigel Farage.