Prescott may seek judicial review of phone hack claims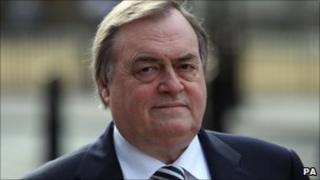 Lord Prescott has said he is prepared to take legal action to find out whether News of The World journalists hacked into his phone messages.
The ex-deputy prime minister said he would seek a judicial review if the police did not say whether claims his phone had been tapped were true.
The paper's royal editor was jailed for conspiracy to access messages in 2007.
The paper said that was an isolated case, but suspended a reporter earlier this year pending an investigation.
It has also confirmed it was looking into the conduct of a unnamed journalist regarding alleged attempts to hack into the phone of a public figure. The paper said it would take "swift and decisive action" if there was proof of wrongdoing.
Last year, the Metropolitan Police chose not to launch an investigation into claims, made by the Guardian newspaper, that a host of public figures - including Lord Prescott - had had their messages hacked by journalists.
'Clearly available'
At the time, it said the evidence did not warrant it and suggested Lord Prescott's phone had not been tapped.
But Lord Prescott told the BBC this had never been confirmed and he now wanted to "find the truth".
He said he expected to hear from the police next week and, if he did not, he would take further action.
"We are waiting for that reply by 11 September and if they fail to give us that information, which is clearly available but has to be given to us, I will seek a judicial review," he told BBC Radio 4's Today programme.
"The only way the truth can come out is really to have it properly investigated and really have a judicial review. I think it demands at least that."
A number of MPs have called for a fresh inquiry into the allegations made by the New York Times about the extent to which other News of World reporters took part in phone hacking.
Lib Dem Adrian Sanders said he believed a judge-led probe might be the only way to get to the truth of what had happened.
"It is about justice for people who were allegedly hacked," he told BBC Radio 4's World At One programme.
Shadow Home Secretary Alan Johnson, meanwhile, has said he was considering asking Her Majesty's Inspectorate of Constabulary to review the Met's handling of the case.
He also said he would ask to see Home Office files relating to what he said were "extremely serious" allegations, under the convention allowing former ministers to do so.
No knowledge
The Met said it would approach the New York Times to clarify aspects of its allegations, but rejected any suggestions its officers had not followed up clear leads during last year's investigation.
In a report published last year, MPs said the publishers of the News of the World - News International - had suffered "collective amnesia" over the practice.
After interviewing senior executives on the paper - including former editor Andy Coulson - the Culture, Media and Sport committee said there had been more than a handful of victims and it was inconceivable no-one at the tabloid had known.
News International rejected the committee's claims and said it had failed to provide any new evidence.
Mr Coulson resigned after former royal editor Clive Goodman - and a private investigator - were jailed in 2007, saying he took responsibility for the incident while insisting he was not aware of what the journalist had done and never sanctioned his activities.
He became David Cameron's communications director in 2007 and is now a senior aide to the prime minister.
No 10 has said Mr Coulson has repeatedly denied any wrongdoing in relation to the case or the conduct of journalists while he was the paper's editor.
But ex-Labour minister Chris Bryant said Mr Cameron had shown an "enormous lapse of judgment" by appointing Mr Coulson.