Former PM Gordon Brown to focus on schools and Africa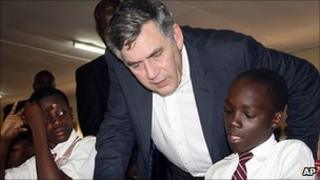 Gordon Brown is to devote time to helping more children get access to schooling around the world and boosting internet development in Africa.
The ex-prime minister will work on unpaid projects he and wife Sarah are "committed to", a spokesman said.
Mr Brown has kept a low profile since leaving office in May, focusing on his role as an MP and working on a book on the global economic crisis.
He visited Uganda in June, reflecting a longstanding interest in aid issues.
Mr Brown and his wife are to set up an office to co-ordinate their involvement in a series of education and development-focused initiatives.
Mr Brown's spokesman said he would not be paid for his work for organisations such as the World Wide Web Foundation and the Global Campaign for Education.
'Making a difference'
He will fund the workings of the office, including its staff, through speaking engagements.
As he remains the MP for Kirkcaldy and Cowdenbeath, he has registered his office with the Parliamentary Standards Commissioner as well as Companies House.
The Global Campaign for Education was established in 1999 to meet the goal of every child getting an education and Mr Brown will act as a "convener" to its High Level Panel.
He is also joining the board of World Wide Web Foundation - set up by web founder Sir Tim Berners Lee - which strives for more widespread use of the web globally.
Separately, he will take forward a "programme of work" to support internet growth in Africa.
"Gordon Brown's global work will focus on those areas where he believes he is best placed to make a difference and these new initiatives are a sign of his determination to do that," a spokesman said.
"Gordon and Sarah have always made clear they are determined to continue to make their contribution to public life and these latest initiatives are a sign of Gordon's future priorities."
Mr Brown has made only fleeting appearances at Westminster since he left Downing Street and has said he will not be endorsing a candidate in the current leadership contest.
He has not commented on claims in predecessor Tony Blair's memoirs that he was "maddening" to work with and put him under "relentless" pressure, as he waited to become PM.
But Shadow Education Secretary Ed Balls - who is close to Mr Brown - said he had spoken to the former prime minister on Thursday and told him Mr Blair's verdict was "harsh" and "one-sided".