I'm gaining on Labour rivals, says Andy Burnham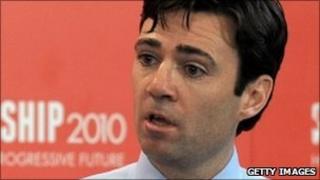 Labour leadership candidate Andy Burnham has dismissed suggestions that the contest is a "two-horse race" between David and Ed Miliband.
The shadow health secretary told the BBC he was "in a strong third position and gaining ground" on his rivals.
He also accused senior party figures of "self-indulgent factionalism", arguing that he was not New Labour or Old Labour but "true Labour".
Ballots for the leadership contest are being sent out on Wednesday.
Labour heavyweights Lord Kinnock and Lord Mandelson have clashed following Ed Miliband's criticisms that the New Labour project had seen the party lose touch with its roots.
Lord Mandelson, the former business secretary, said the party would enter an "electoral cul-de-sac" if its next leader tried to become "pre-New Labour".
But Lord Kinnock, the former Labour leader, said this was "indulging in the sort of personalised factionalism that has inflicted such damage on our party in ancient and modern history".
'Frustrating'
In an interview with BBC political correspondent Paul Rowley, Mr Burnham criticised the portrayal of the contest as "a battle between Old and New Labour", arguing that the party had to move on.
The media focus on the Milibands was "frustrating", he added, saying he represented "mainstream majority opinion"among Labour activists.
Mr Burnham, MP for Leigh, said the party had become "dangerously disconnected with ordinary working people" when in government, and that he was best placed to "rebuild... from the bottom up".
He promised he would not be a "tribal" leader, but was prepared to take on the coalition government if public services were threatened by spending cuts.
He said: "Where it matters, I will work with other parties across traditional divides. But where the government does things that I fundamentally disagree with and in my view damage the social fabric of Britain, then I will stand up and be counted and take them on."
Rival candidate Ed Balls has likened media coverage of the contest to a "soap opera" about Ed and David Miliband, saying this does not do "justice to the issues".
Voting in the leadership, in which backbench MP Diane Abbott is also a candidate, lasts until 22 September, with the result being announced at the start of Labour's annual conference in Manchester.