Conservative minister Crispin Blunt reveals he is gay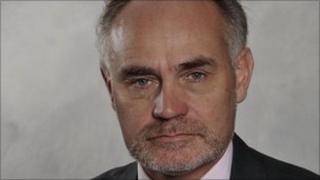 Conservative minister Crispin Blunt has disclosed that he is gay and has separated from his wife.
Mr Blunt, who is prisons minister in the coalition government, said he had "decided to come to terms with his homosexuality".
In a statement, he said the move was "difficult" for his family and hoped for their "understanding and support".
He has been MP for Reigate since 1997, before which he served in the Armed Forces for many years.
The 50-year old - a junior minister in the Department of Justice - has two children.
Privacy plea
He announced his separation from his wife Victoria in a statement on the ConservativeHome website, saying he had "explained the position" to his family.
"There is no third party involvement but this is difficult for his immediate and wider family and he hopes for understanding and support for them," the statement said.
"The family hope that their privacy will be respected as they deal with these difficult private issues."
As prisons minister, Mr Blunt is responsible for penal policy and finding savings in the prisons budget as part of this autumn's departmental spending review.
He hit the headlines last month when he called for rules banning comedy gigs, parties and other recreational events being held in prisons to be relaxed - which No 10 immediately ruled out.
Mr Blunt held a succession of frontbench roles while the Tories were in opposition between 1997 and 2010.
Before entering Parliament, Mr Blunt served as an army officer for 11 years, being stationed in Cyprus, Germany and the UK.
A member of Mr Blunt's constituency party told the BBC: "It's a bit of a shock. We didn't know in advance.
"But everyone in the local party likes him and it's a courageous thing to do. It's really a private matter for him."