Home Office fails to axe ID cards in 100 days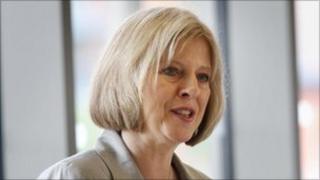 The government has admitted missing its target of scrapping ID cards within 100 days of coming to office.
In May, in one of the coalition's first acts, Home Secretary Theresa May said the bill to abolish the cards would become law by August.
But ministers ran out of time to get it on to the statute books before MPs began their summer recess.
The bill will now begin its report stage on 15 September with Royal Assent expected "later this year".
A Home Office spokesman said: "Government plans to scrap identity cards have always been subject to Parliamentary approval.
"The Identity Documents Bill was the first bill introduced by the coalition government and will reach Report and Third Reading stage in the Commons on 15 September.
"We expect Royal Assent later this year and can then consign identity cards and the intrusive ID card scheme to history."
'Physically destroyed'
The cards already in circulation will remain legal until the legislation has been passed to abolish them and the National Identity Register.
The 15,000 people who voluntarily paid £30 for a card since the 2009 roll-out in Manchester will not get a refund.
Anyone who has a card or has to deal with them, such as airport security officials, will be told the termination date in writing.
Once the cards are invalid, the National Identity Register will be "physically destroyed", say ministers.
Announcing the abolition of the scheme in May, the home secretary said: "With swift Parliamentary approval, we aim to consign identity cards and the intrusive ID card scheme to history within 100 days."
The abolition bill was to be pushed through Parliament as quickly as possible with the aim of the cards being invalid by 3 September.
Phil Booth, national co-ordinator of campaign group No2ID, said he was not unduly concerned by the delay.
He told BBC News: "I'd far rather the coalition took the time and effort necessary to abolish the ID scheme properly than it hustled something as shoddy and inadequate as the original draft of the Identity Documents Bill onto the statute books, just for a quick and easy headline.
"Let's hope that the delay is an indication that they are taking the flaws in the Bill seriously.
"Rather than criticising them for missing an arbitrary deadline, let's hope we'll be able to applaud the coalition for ultimately doing a proper job - even if it does take them a little more time.
"No one, least of all NO2ID, wants to be left with unfinished business on the ID front."