Samantha Cameron in Vanity Fair best-dressed list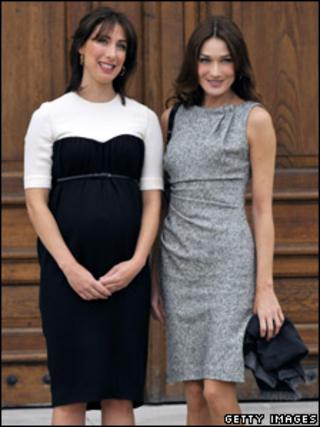 Samantha Cameron has been named in Vanity Fair's 2010 International Best Dressed List, described by the magazine as the "style elite".
The prime minister's wife, who is eight months pregnant, joins best-dressed list regulars Michelle Obama and Carla Bruni and celebrities such as Lady Gaga and David Beckham.
Mrs Cameron is described as "UK First Lady" and creative director of upmarket stationers Smythson.
Her look is described as "realpolitik".
The magazine's list says the 39-year-old is likely to be seen in clothes by Phillip Lim and Erdem and her "dress up accessories" include "brooches, chain pendant, bib necklaces", while her dress-down accessories are listed as "Converse sneakers" and "a pram".
Her favourite cause is listed as Tickets for Troops, which was set up last year by the Conservative Party to provides members of the armed forces and veterans with free admission to sports and music events.
Mrs Cameron, whose sister is deputy editor of British Vogue, has strong links with the fashion world - her customers at Smythson's, based in London's exclusive Bond Street, are said to include models Kate Moss and Naomi Campbell and designer Stella McCartney.
But she is also known for her bohemian streak - she has a dolphin tattoo on her ankle - and for mixing designer brands with high street fashion.
Bonham Carter
She grabbed headlines at last year's Conservative Party conference when she appeared at husband David's side in a grey polka dot dress from Marks and Spencer, which retails at £65, in keeping with the austerity theme of the event, although it later emerged one of the store's dressmakers had been enlisted to make it, as the item was sold out.
Mrs Cameron went part-time at Smythson's when David Cameron became prime minister in May and the family moved to Downing Street.
She has since had to share the fashion spotlight with First Ladies Michelle Obama and Carla Bruni, a former model, on official visits to the UK with their husbands.
The worlds of film and fashion dominate the 45 strong Vanity Fair list with Oscar nominated British actress Carey Mulligan making the cut, along with Helena Bonham Carter, designer John Galliano, film director Martin Scorsese and Hollywood actors Alec Baldwin and Javier Badem.
Princess Mary of Denmark and Germany's Princess Mafalda of Hesse also feature.
This year marks US First Lady Michelle Obama's fourth consecutive appearance on the Vanity Fair list, with the magazine noting that she has single-handedly revived arms, belts, cardigans, shifts, high hair and kitten-heel pumps.
The Vanity Fair list, which has been published for the past 71 years, is compiled from a poll of style gurus, designers, retailers, editors, socialites, photographers and entertainers in the US and beyond.