Illegal migrants warned UK is 'no longer a soft touch'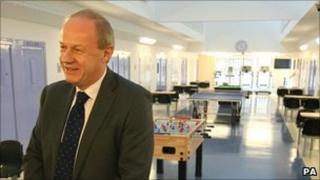 The UK is "no longer a soft touch" and must become better at deporting illegal immigrants, Damian Green has pledged.
The immigration minister said there were "many failures in the asylum system" which needed tackling.
He was speaking at the opening of Harmondsworth Immigration Removal Centre, near Heathrow Airport.
Meanwhile, it has emerged that 17,473 appeals against immigration decisions were won last year without a Home Office worker at the hearings.
Mr Green said: "In the past, Britain's not been good at removing people who aren't meant to be here.
He added: "Britain is open for business but Britain has been too often a soft touch for illegal immigration.
"Britain is no longer a soft touch. Those who have no right to be here need to be removed."
The centre is the largest of its kind in Europe, with the capacity to hold as many as 615 people.
It was rebuilt after two wings of the centre were burned down during riots by detainees in November 2006.
They lit fires and ruined some of the detention cells as they protested about their living conditions.
Some used sheets and other material to spell out the words "Help" and "SOS" for the benefit of television crews flying overhead.
Mr Green said the centre would house some of the UK Borders Agency's "most challenging" detainees, including foreign criminals who had been released from jail and were waiting to be deported.
Mr Green said doubling the size of the centre would ensure "a safer regime" was run this time.
He said: "It's more secure, it's built to higher standards and the fact of it being more secure means you can run a regime inside the detention centre that will allow tensions to be kept at a low level so you're less likely to see the scenes we saw in 2006.
"No-one wants to see a repeat of the fire we had in 2006 when clearly things had gone badly wrong.
"The many failures in the asylum system will be tackled vigorously."
His comments come after a parliamentary written answer revealed that more than 17,000 appeals against immigration decisions were won in 2009 without a Home Office representative.
In all, 36% of appeals in 2009 were not attended by a representative, compared with 24% in 2008.
Documentary evidence
The volume of appeals peaked at more than 188,000 in 2008/9.
But the introduction of an administrative review process for some visa application casework cut this to about 160,000 the following year.
Earlier Mr Green said: "Our appeal process is designed so that many appeals should be, and are, determined on the documentary evidence without a need for representation."
He added: "I made clear, when I launched the Asylum Improvement Project, the government is committed to improving the immigration system so we target our resources more effectively - including in court.
"As part of this, we must focus our resources on defending the right cases in court. This is why we represent in over 90% of asylum, bail, deportations and high harm cases and why team managers carefully scrutinise and identify suitable cases to proceed without representation."