Koh-i-Noor diamond 'staying put' in UK says Cameron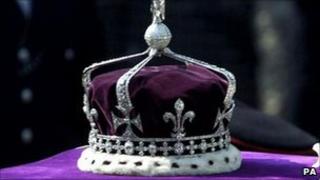 David Cameron has rejected calls for the famous Koh-i-Noor diamond, which has been part of the Crown Jewels for 150 years, to be returned to India.
The diamond, which was mined in India, was seized by the East India Company in 1849 and presented to Queen Victoria.
Indian politicians have long urged the 105-carat treasure's return.
But asked about the issue during his trip to India, Mr Cameron said such a move would set an unworkable precedent and it was "staying put".
The diamond fell into British hands as part of the Treaty of Lahore, which saw Britain take control of Punjab.
'Atonement'
It was last worn by the late Queen Mother and was displayed on top of her crown when her coffin lay in state after her death in 2002.
Last year Tushar Gandhi, the great grandson of independence leader Mahatma Gandhi, said it should be returned as "atonement for the colonial past".
But Mr Cameron - who is on a two-day visit to India - told the Indian TV channel NDTV this would not be happening.
"If you say yes to one you suddenly find the British Museum would be empty," he said. "I think I am afraid to say, to disappoint all your viewers, it is going to have to stay put."
Among other disputes over famous artefacts, Greece has for many years called for the return of the Elgin Marbles, removed from the Parthenon some 200 years ago and taken to London by the Earl of Elgin.
One expert on the Crown Jewels said, by definition, all diamonds produced before the mid-18th Century were of Indian origin since no other country mined them.
'Cultural exchange'
But historian Dr Anna Keay told the BBC that since its creation, the diamond had had many different owners, being in Persian and Afghan as well as Indian hands.
"The crucial thing is this diamond has been in circulation certainly since the beginning of the 16th Century during which time it has been in the hands of whole sequence of different rulers," told Radio 4's Today programme.
"The question is to which point do you take it back."
The historical case for repatriating the diamond to India was not particularly "sensible", she said, and it was "very unlikely" to happen.
"Either you take the view that objects should stay in the country from which they artistically or geologically sprang.
"Or you say things, through the passage of time and circumstances, change hands and that is the nature of cultural exchange.
"In that case, it is very hard to see a convincing argument for the diamond to go back to India where it hasn't been since the 1730s."