UKIP wins court case over order to pay back donation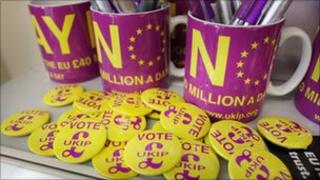 The UK Independence Party does not have to forfeit all of a £367,697 "impermissible donation", the Supreme Court has ruled.
UKIP received the money from a donor who was not on the electoral register.
The party was initially told to forfeit £14,481 but that was increased after the Electoral Commission took the case to the Appeal Court.
UKIP's victory at the Supreme Court lifts the threat of financial ruin that was hanging over the party.
But it represents a defeat for the Electoral Commission which was pressing UKIP to return the full amount donated by retired bookmaker Alan Bown.
Since 2003, Mr Bown has given more than £1m to UKIP to help it fight elections and mount campaigns against Britain's membership of the EU.
'No animosity'
Due to what the party says was a "clerical error," between December 2004 and January 2006 he was not on the electoral register - making him an impermissible donor under UK electoral law.
He did not find out until December 2005 and was reinstated the following February.
In 2007, a Magistrates Court decided UKIP need only forfeit a fraction of the total amount donated by Mr Bown.
Subsequent appeals first by the Electoral Commission, then by UKIP, led to Thursday's 4-3 majority judgement by the Supreme Court.
In a statement issued by UKIP, Mr Bown said: "I am pleased and relieved that all this is over. The money that would have been forfeit will now be used to launch a UKIP membership drive, through a concerted leafleting campaign.
"I feel no animosity towards the Electoral Commission, we understand they have a job to do."
UKIP leader Lord Pearson said: "We can now concentrate on our job... working towards the UK leaving the European Union."
The Electoral Commission said it accepted the Supreme Court's judgement and it would "carefully consider the implications of the judgment for how impermissible donations are dealt with in future".
'Legal clarity'
Lisa Klein, the commission' s director of party and election finance, said: "Throughout this process, we have made clear that what we wanted to achieve was clarity about the way the law should be applied.
"Today's Supreme Court judgement sets out how the rules on forfeiture apply to impermissible donations.
"The law on what an impermissible donation is has not changed."
According to accounts for 2009, filed to the Electoral Commission, UKIP raised £1,221,422 and spent £1,201,617 on campaigning.
This year's general election cost the party £229,000 in lost deposits.