UK opts-in to plan to share evidence between EU police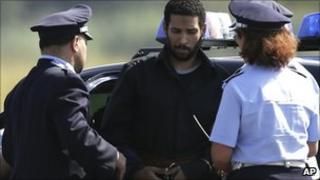 Home Secretary Theresa May says the UK will opt in to an EU order allowing foreign police to be given evidence held in the UK.
The European Investigation Order makes it easier for police to investigate suspects living in each other's states.
Mrs May told MPs the EIO would help fight crime in the UK.
Critics predict forces will end up wasting resources working on unjustified investigations that breach civil liberties.
Under the current system, EU police forces who want to investigate a suspect in another member state ask their counterparts for help through special agreements called Mutual Legal Assistance.
In 2005, the UK used its MLA with Italy to secure the arrest and speedy extradition of one of the 21 July failed suicide bombers, Hussain Osman.
Mrs May said that the UK would opt in to the new EIO system because it was in the national interest to make it simpler for police forces to request help from each other in the future.
"The [current] process is fragmented and confusing for the police and prosecutors. And it is often too slow, taking in some cases many months to obtain vital evidence," Mrs May told MPs.
"The European Investigation Order therefore seeks to address these problems by simplifying the system with a standardised request form and providing formal deadlines for the recognition and execution of requests."
Backbench concerns
The Opposition has supported the EIO's development over the past year - but critics say it could mean that police would be compelled to investigate suspects even if they believed there was no case to answer.
The Home Secretary has faced pressure from some Conservative backbenchers including former shadow home secretary David Davis. He said the EIO could allow foreign authorities to give instructions to British police.
And campaign group Fair Trials International has also warned that EIOs could be used to compel British police to gather information including DNA samples and bank records.
Jago Russell, head of Fair Trials International, said: "The Government has signed us up to a measure that has serious implications for stretched police forces and for civil liberties.
"Despite this, our elected representatives have had no opportunity to debate the proposal or the issues it raises. Unless vital new safeguards are introduced, the decision to rush into this ill thought-out measure will be regretted across Europe."
Officials stress that foreign forces will have to show an "obvious link" between an alleged crime and an individual before British police would begin the process of handing over information.
Mrs May told MPs on Tuesday that although the draft agreement was not perfect, the UK would play a key role in shaping a workable system with safeguards.
"We will seek to ensure that there is a proportionality test so police forces are not obliged to do work in relation to trivial offences," she said.
"The EIO does not allow foreign authorities to instruct UK police officers on what operations to conduct, and it does not allow foreign officers to operate in the UK with law enforcement powers."