Cable: Forgemasters could still get government help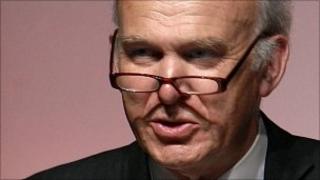 The government says it is "ready to work closely" with Sheffield Forgemasters after cancelling an £80m loan to the company.
Business Secretary Vince Cable promised to look at all proposals when the availability of public money "becomes clearer" in the autumn.
The coalition cancelled the loan, agreed by the Labour government, citing a lack of affordability.
But Labour say the decision will damage the Sheffield economy.
The loan was agreed in March to pay for equipment for Forgemasters to build parts for nuclear power stations, but the government argues that it must be cut as part of its efforts to reduce the budget deficit.
'Continues to prosper'
Last week the company announced it had shelved its plans, which it said could have created 200 jobs.
In a written statement to Parliament, Mr Cable said: "The government understands this decision and the company's desire to focus on other projects. We have made clear that we stand ready to work closely with the company as it pursues its ambitions and we are willing to look carefully at all proposals, as we would for any project, when the future availability of public funds becomes clearer after the completion of the spending review."
The review, setting out government spending for the next three years, is due to be unveiled in October.
Mr Cable said of the Forgemasters scheme: "It is a worthwhile project, but when the coalition government came into office it discovered that the previous administration had allocated too much money across government.
"In total, the previous government approved £34bn of new spending commitments between 1 January 2010 and the general election.
"It was therefore necessary to seek additional savings of £6bn in this financial year. This meant that ministers across the whole of government had to take a number of very difficult decisions - cancelling the loan for a new 15,000-tonne press that had been offered to Sheffield Forgemasters was one such decision.
'Bouncing cheque'
"The cancellation of the loan has not led to redundancies. In fact, the company continues to prosper."
On Monday, former Business Secretary Lord Mandelson called on Deputy Prime Minister Nick Clegg to apologise for saying the government had to cancel the loan over fears the "cheque would bounce".
Labour say the move will hit employment in Sheffield and the surrounding area and has questioned the motives behind the decision.
After visiting the Business Department to look at the paperwork and advice from civil servants on the issue, Lord Mandelson claimed his position had been vindicated.
But Mr Clegg, a Sheffield MP who has come in for local criticism over the decision, said at deputy prime minister's questions that the government, when it came to power, had discovered "that the previous government had promised £9bn more than was available".
He repeated his criticism, saying: "It was wrong to write cheques which it knew would bounce."