Griffin ban: The mood on the lawn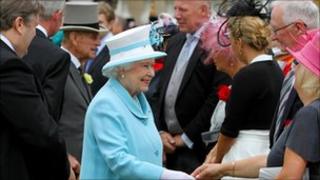 Nick Griffin did not seem to be missed.
Grazing on crust-less cucumber sandwiches and Victoria sponge, charity workers in hats and Scout leaders wearing woggles mingled with diplomats and politicians.
In the vast garden behind the high walls of Buckingham Palace, the talk was of the perfectly formed sandwiches and high-quality crockery.
The 8,000 people from all walks of life were clearly chuffed to bits to be here.
When the Queen and Prince Philip appeared on the Palace steps, the band struck up the national anthem and polite applause rippled across the lawn. As one guest, Leslie Moss, said, it felt a quintessentially British event, "a mixture of My Fair Lady and Ascot".
But the leader of the political party with British in its title was not there.
'Very British'
Just hours before the guests started to stream in, the BNP's Nick Griffin had his invitation pulled by Buckingham Palace, who felt he had used it for party-political purposes. And the police clearly felt that his presence could have provoked a disturbance.
But would people have minded if Mr Griffin had been allowed in?
"We'd have been far more interested in the Beefeaters," said Diane Scott from the charity Cancer Research UK. "Ninety-nine per cent of people here would have ignored him and been very British about it."
Sipping Twinings Garden Party Tea - only available at the Palace - John Clark said it was right that the invitation had been withdrawn: "He was entitled to be invited but he's tried to make political capital out of it."
John Fallon, from the WRVS charity, agreed.
"The Palace is in an unfortunate position of having to invite him," he said. "Nick Griffin would have been left in middle of a hole on the lawn. People would have avoided him."
Tom Holt thought it was a more harmonious occasion because of Mr Griffin's absence.
The Mayor of Chesterfield, Keith Morgan, said Mr Griffin's attendance would have been a "damp squib" and suggested that people would not have spoken to him.
Most seem to have ignored the BNP's Andrew Brons, whom nobody I met said they would be able to recognise.
But the decision to stop Mr Griffin coming meant that the BNP leader's aborted visit to the Palace received much more prominence than it would have done, had he just slipped in and out for a cup of their special tea.