Senators call for inquiry into Lockerbie bomber release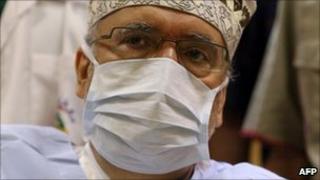 A group of US senators has repeated calls for an inquiry into the release of the Lockerbie bomber, after meeting UK Prime Minister David Cameron.
Claims have been made that BP lobbied for the release, but the PM said the Scottish government were responsible for freeing Abdelbaset Ali al-Megrahi.
Mr Cameron has asked the UK's top civil servant to review government papers, but rejected US demands for an inquiry.
New York senator Kirsten Gillibrand said justice had not been served.
Megrahi was freed by Scottish Justice Secretary Kenny MacAskill on compassionate grounds and allowed to go home to Libya.
He has prostate cancer and, at the time, was said to have as little as three months to live. Megrahi is still alive almost a year later.
Ms Gillibrand said it was clear a full investigation into the release was still needed.
"This is about how we fight terrorism. We cannot have a convicted terrorist be told that he had three months to live and released and sitting in the lap of luxury for up to 10 years," she said.
"That is not justice served and, when we are trying to be able to be effective in fighting terrorism worldwide as allies, we cannot tolerate a convicted terrorist going free on the basis of evidence that may well have been fraudulent."
Senator Chuck Schumer, also from New York, said there was "too much suspicion to brush this aside".
"The only way to restore the integrity of what happened and to continue the integrity of the British government is to do a full and complete investigation," he said.
'Violent agreement'
Scottish First Minister Alex Salmond has defended the decision to release Megrahi.
Mr Salmond also offered to publish all correspondence between his ministers and the UK and US governments surrounding the case.
But he told BBC Radio 4's Today programme the Scottish government had no regrets about releasing Megrahi as it had followed "due process".
"You can only take a decision in good faith. If you take a decision in good faith you don't regret it," he said.
He added that prisoners released on health grounds sometimes lived longer than expected, such as train robber Ronnie Biggs, who was released from prison last year.
And he said the Scottish government had not been lobbied by BP, nor had any kind of contact with the oil company.
It had also been opposed to any prisoner transfer deal with Libya of the type agreed by then prime minister Tony Blair in 2007, as it was a "tainted process and something that should be avoided".
Kenny MacAskill rejected Libya's prisoner transfer application for Megrahi and he said he had based his decision "on strict justice criteria".
He said: "There is not one instance of an application for compassionate release having met the criteria being rejected by any minister - SNP, Labour, Liberal or Tory.
"I received the appropriate criteria from the director of health and social care, from the prison governor and indeed from the parole board."
David Cameron said he had seen no evidence the Scottish government had been "swayed" by lobbying from BP.
The firm is already facing widespread criticism in the US for its handling of the enormous oil leak from one of its platforms in the Mexican Gulf.
BP would have to explain any representations it had made over Megrahi, Mr Cameron said at a White House press conference after a three-hour meeting with US President Barack Obama.
He and President Obama had been in "violent agreement" that freeing the bomber last August had been an error, he added.
'Strict criteria'
Mr Cameron, on his first official trip to the US since becoming prime minister, said: "Releasing the Lockerbie bomber, a mass murderer, was completely wrong.
"He showed his victims no compassion. They were not allowed to die in their beds at home."
But he added: "That was not a decision taken by BP, it was a decision taken by the Scottish government."
Mr Obama said people in the US had been left "surprised, disappointed and angry".
Some 270 people died in the 1988 bombing of a Pan Am flight over Scotland, most of them Americans.
The bomber was freed by Mr MacAskill and allowed to go home to Libya.
BP has insisted it had no discussions with either the UK or Scottish governments over the issue.