Mandelson memoirs condemned by Labour leadership rivals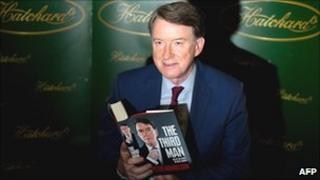 Three Labour leadership contenders have accused Peter Mandelson of damaging the party with his controversial memoirs and urged him to leave politics.
Speaking to the Times, David Miliband called the book "destructive".
Ed Miliband said Lord Mandelson had "offended just about everyone". "It's time to leave," advised Andy Burnham.
The backlash concerns the depiction of feuding between Tony Blair and Gordon Brown. Lord Mandelson has defended his "flattering" view of their governments.
The Miliband brothers and Mr Burnham are three of the five contenders for the Labour leadership, along with Ed Balls and Diane Abbott.
'Sad and damaging'
David Miliband said that published extracts from Lord Mandelson's book, The Third Man, had been "destructive and self-destructive".
"Memoirs come after retirement, not before," he added.
Ed Miliband said: "I think this is sad and damaging to Peter, not just to the Labour Party."
He called Lord Mandelson "his own worst spin doctor", and suggested it was "time for a new generation" in the Labour Party.
That view was shared by Mr Burnham, who said: "Peter loves the spotlight but it's time to leave the stage."
Labour debate
Lord Mandelson's memoirs quote Mr Blair as describing Mr Brown as "mad, bad, dangerous and beyond redemption".
They also claim Mr Blair went back on a promise to Gordon Brown not to fight a third general election as prime minister.
Lord Mandelson has defended his book against criticism, saying: "I do think it shows a very good and flattering picture of not just Gordon Brown and Tony Blair but others like me who helped them rescue the Labour Party from what it was in the 1980s."
He has also argued that the memoirs can contribute to the debate among the leadership contenders about Labour's future.
He had wanted to "give my views and analysis at a time when it is most relevant to the party", he said.