Tory peer Lord Taylor facing expenses prosecution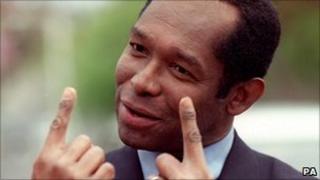 A Conservative peer is facing criminal prosecution over his expenses claims.
Lord Taylor of Warwick has been charged with six counts of false accounting in relation to alleged dishonest claims he made for £11,000 in subsistence costs.
Lord Taylor, who became the Conservatives' first black member of the Lords in 1996, has resigned the party whip.
He is the sixth parliamentarian to be charged with alleged fraud in relation to their expenses.
Three former Labour MPs - Eliot Morley, David Chaytor and Jim Devine - current Labour MP Eric Illsley and Conservative peer Lord Hanningfield have also been charged with offences under the Theft Act.
They have all proclaimed their innocence and said they will fight the charges.
'Public interest'
A practising barrister, Lord Taylor worked as an adviser to Home Office ministers in the 1980s and 1990s.
He narrowly failed to be elected to Parliament in 1992 when he lost the Cheltenham seat to the Liberal Democrats.
The Crown Prosecution Service said it believed there was "sufficient evidence" to charge Lord Taylor following a police investigation and that it was in the "public interest" to do so.
He is alleged to have dishonestly submitted claims for overnight subsistence and car mileage on six occasions in 2006 and 2007.
He will appear before London magistrates next month.
"Lord Taylor now stands charged with criminal offences and has the right to a fair trial," Keir Starmer, Director of Public Prosecutions, said.