Lord Kinnock attacks Lord Mandelson as a 'caricature'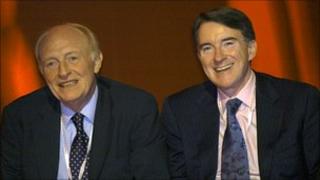 Former Labour leader Lord Kinnock has criticised Lord Mandelson's memoirs, claiming the ex-business secretary has become a "caricature" of himself.
Lord Mandelson's book describes feuding between Gordon Brown and Tony Blair, alleging Mr Blair called his successor "mad, bad and dangerous".
Lord Kinnock said it focused too much on a "pathetic personality clash" between the Brown and Blair camps.
He added that Lord Mandelson had an "extraordinary gift of perfect recall".
The book, called the Third Man, has been serialised in the Times newspaper.
In it Lord Mandelson, who oversaw Labour's recent election campaign, says that, while in Downing Street, Mr Blair went back on a promise to Mr Brown not to fight a third general election
He also reveals that Mr Blair once described Mr Brown as "beyond redemption".
Mr Blair was reported in the Times as being "livid" about the contents of the book, but his spokesman has denied this. Lord Mandelson told the BBC he thought the portrayal of the New Labour project was "flattering".
'Some responsibility'
Speaking on BBC's Straight Talk with Andrew Neil, Lord Kinnock said: "We have that account barely two months after the general election, and we have that account from a book that either has been written at breakneck, indeed a rate of genius velocity, or was being written many, many, many months before the general election.
"And in all those circumstances, with this extraordinary gift of perfect recall that Peter seems to manifest in the book, or at least the extracts that I've read from it, I think that we have to wonder whether Peter's interest is in sensation and book promotion or faithful historical record."
Lord Kinnock, who employed Peter Mandelson as Labour's campaign co-ordinator for the 1987 general election, said: "I take some responsibility for Mr Mandelson because I gave him his first significant job."
He added: "And he was very good. I would say that at the time he came out of the top drawer."
He goes on: "I had cause to say some years ago - when somebody asked me, either when Peter was coming in or going out of a cabinet job, I can't remember which - that my view of Peter was that he wasn't as good as he thought he was, and he was certainly not as bad as many people said he was.
"And I think that was a fair summary. The problem is with Peter, I really do believe - and I'm sorry about it in many ways, because he's got great capabilities, and he's been prepared to donate those capabilities to the cause of Labour - but the fact is, so much was said about him as, for instance, the Prince of Spin, and the Prince of Darkness, that he inhaled and he's actually come to believe that caricature of himself."
Andrew Neil asked Lord Kinnock whether Lord Mandelson has put "much time and effort and angst" into what is "basically a pathetic personality clash" between some supporters of Mr Blair and Mr Brown. Lord Kinnock replied: "I agree with every word of what you said, and I don't surprise you when I say that."
Straight Talk is on the BBC News Channel on Saturday at 0430 and 2330 BST, Sunday at 0130 and 2230 BST, and Tuesday at 0330 BST.