Clegg rejects criticism over voting reform referendum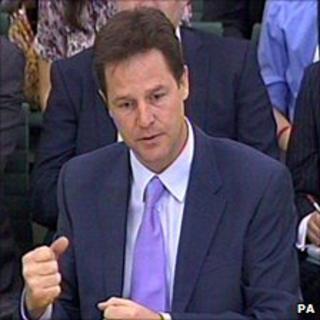 The deputy prime minister says he "struggles to understand" why holding a referendum on electoral reform on the same day as Scottish national elections will confuse voters.
The political and constitutional reform committee warned that holding ballots on the same day, as planned, would lead to a repeat of problems seen in 2007.
Then a mixed poll in Scotland led to thousands of spoiled ballot papers.
But Nick Clegg said voters were capable of distinguishing between the issues.
'Skewed' result
Mr Clegg announced earlier this month that a referendum on switching to the alternative vote (AV) system would be held on 5 May 2011 - the same day as elections in Scotland, Wales and Northern Ireland.
Some Tory MPs complained that choosing the same date would "skew" the result because turnout would differ across the UK.
Plaid Cymru, the DUP and SNP have also complained, saying the move would leave voters confused and devalue the importance of Scottish, Welsh and Northern Ireland issues.
But appearing before a committee on Thursday, Mr Clegg hit back at those criticisms.
"I really struggle to understand why the extensive and wide-ranging debates about the future of Scotland, about the government of Scotland, the politics of Holyrood, would in any way be subsumed or overshadowed or overturned by a separate, very, very clear, simple yes or no vote on how in future people vote for their MPs," he said.
"I am genuinely trying to work out what the allegation is.
"I speak to friends of mine who will be voting in Scotland and they say they see no complexity at all."
'Grown-up' coalition
The deputy prime minister said the problems in Scotland in 2007 were the fault of a highly complicated ballot paper for local elections.
Evidence from across the UK suggested the electorate was perfectly capable of dealing with a "dizzying array" of different political issues and polls, he added.
"There is quite a lot of evidence that people do not like to be asked to keep going back to the ballot box."
The referendum will allow the public to choose whether to retain the current first-past-the-post system or replace it with AV, where candidates are ranked in order of preference.
The Lib Dems back a change to AV, but the Conservatives oppose it, and the two coalition parties will each campaign for their own preferred system in the run-up to the referendum.
But Mr Clegg told the committee that he did not think that would strain working relationships within the coalition, which he said was "relaxed and grown-up" about its differences.
He also said he could "happily scotch any rumours" that the Lib Dems would withdraw from the coalition if they lost the referendum.
Spanish wife
Asked whether participation in the referendum would be restricted to only those eligible to vote in general elections, Mr Clegg said he thought an exception could be made for members of the House of Lords.
"I do not see any principle why peers should not be able to express their views about reform of the voting system," he said.
But he confirmed that citizens of other EU countries living here would not be allowed to take part, including his Spanish wife, Miriam.
"I have not yet broken this news to Miriam," he said.
"It was bad enough being on opposite sides of the World Cup final."