Jim Rodgers: Belfast councillor given partial suspension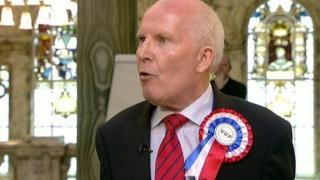 Ulster Unionist councillor Jim Rodgers has been given a partial suspension from two roles he holds on Belfast City Council.
The local government watchdog ruled Mr Rodgers had breached several parts of the councillors' code of conduct.
It found he failed to declare interests in two groups that received money from a council fund.
He was given a three-month suspension from the policy and resources committee - his councillor role is unaffected.
Mr Rodgers has chaired the council's powerful strategic policy and resources committee since earlier this year.
He has also been suspended from membership of the East Belfast Area Working Group - one of four area groups the council has, which decide on where money for projects should go.
The breaches relate to Mr Rodgers' former roles in Belmont Bowling Club and on the board of governors at Ashfield Girls' High School, both in east Belfast.
'Exemplary record'
A complaint was made against the councillor that he had failed to declare his interests in the groups, which each went on to receive money from the council's local investment fund.
He also failed to leave two meetings of the East Belfast Working Area Group after having declared an interest in Belmont Bowling Club.
The Local Government Commissioner for Standards, Marie Anderson, said but for Mr Rodgers' "exemplary record of public service", she would have imposed a "full suspension".
She also found that his failure to declare his interests at a number of meetings of the working group, as well as a failure to leave the room when the interests were being discussed, amounted to "substantial breaches" of the code of conduct.
'Extremely complex'
Mr Rodgers no longer holds an active role in the bowling club and has also left the board of governors at Ashfield Girls' School.
Mr Rodgers has been elected to Belfast City Council since 1993 and has served as Lord Mayor twice.
In a statement, Belfast City Council said it would look at the decision "in order to ascertain what further assistance and clarification can be given to councillors around this area going forward".
"The rules around declarations of interest from councillors are extremely complex and sometimes difficult to apply," it added.