Robin Swann: Irish government 'poked unionists in the eye'
By Jayne McCormack
BBC News NI Political Reporter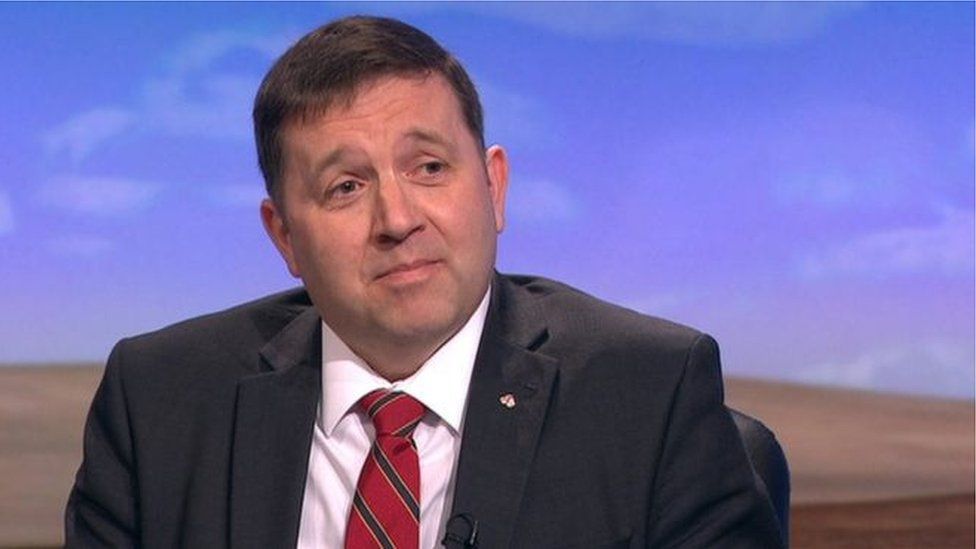 The Irish government has made comments that were like a "poke in the eye to unionists" over Brexit, the Ulster Unionist Party leader has said.
Robin Swann was speaking at the Fine Gael Ard Fhéis (party conference).
He said he did not believe the Irish government had always worked with the same objective as unionists to see a deal to protect Northern Ireland.
Mr Swann is the first Ulster Unionist leader to address a Fine Gael conference.
The Taoiseach (Irish prime minister) and Fine Gael leader, Leo Varadkar, has said the draft deal is "the only way" to avoid a hard border in Ireland.
The Irish border has been the main sticking point throughout the talks.
The UK and EU have agreed to a backstop, which would see NI stay aligned to some EU rules if another solution cannot be found by the end of the proposed transition period in December 2020.
That means that goods coming into Northern Ireland would need to be checked to see if they meet EU standards.
Northern Ireland's two unionist parties - the DUP and UUP - are opposed to what they have described as an "Irish Sea border" happening as they say anything that differentiates NI from the rest of the UK poses a threat to the union.
The backstop proposal would also involve a temporary single custom territory effectively keeping the whole of the UK in the EU customs union - until both the EU and UK agree that it is no longer necessary.
Addressing the party conference on Saturday, Mr Swann said relations between Northern Ireland and the Republic of Ireland had largely improved since the signing of the Good Friday Agreement in 1998 - the building block of peace that ended 30 years of violence.
However, he said "good neighbours must be honest with each other", and that means "speaking up when you think the other has overstepped the mark".
He said the years following the EU referendum had reignited a "tension" between the Republic of Ireland and unionism in Northern Ireland.
"When my party raised legitimate concerns over the backstop, that seemed to be met with a "suck it up" attitude," added Mr Swann.
"A sea border is a direct challenge to the Belfast Agreement and the principle of consent and is not a concern that should just be waved away."
He asked the Irish government to take care with its language over the coming weeks as the furore over Brexit continues, cautioning against "Ireland first rhetoric".